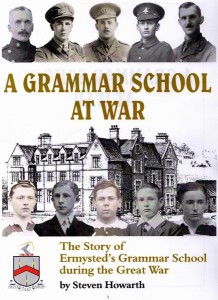 A new book featuring Craven and the Great War has been written by Ermysted's teacher Steven Howarth, it is entitled 'A Grammar School at War – the Story of Ermysted's Grammar School during the Great War'. The Grammar School was one of the major secondary schools of the Skipton and Craven district of Yorkshire at the time of the War, taking in boarders as well as local boys.
The main focus is on 54 Old Boys and Masters of the Skipton School who died serving in the armed forces, predominantly the Army. Nearly half these individuals held commissions, whilst many of the other ranks were NCOs. Whilst a sizeable proportion served with the local Duke of Wellington's (West Riding) Regiment, there was a wide range of other regiments represented. The individual profiles help relate the story of the full span of the War and covers key battles such as Loos, Somme, Arras, Passchendaele, Cambrai, the German Spring Offensive and the 100 Days Campaign of 1918.
Each individual receives a detailed account of his background, school days, civilian career, military service and circumstances of death. Detailed research for the book has utilised School records, local newspapers, battalion war diaries and service files at the National Archive. There is a full 'Roll of Service' – listing 232 individuals – and details of 16 individuals who were decorated. Also included are letters written to the School by serving Old Boys and an account of the War's impact on School life itself.
The book is soft-back, A-4 size and 208 pages long. There are 120 photographs, the bulk being of the 'Fallen' Old Boys; where available photographs of individuals both as boys at School and as servicemen have been included. The retail price is £15 per copy.
To purchase a copy – Send a cheque for £18.00 (includes cost 2nd Class postage and packaging inside UK) made payable to 'EGS Old Boys Society', to Steven Howarth, Ermysted's Grammar School, Gargrave Road, Skipton, North Yorkshire, BD23 1PL or call in at The School Office, Ermysted's Grammar School, Gargrave Road, Skipton, North Yorkshire, BD23 1PL. (Tel. 01756 792186)