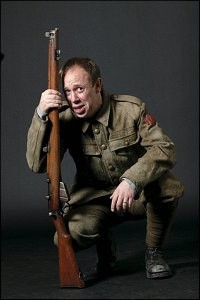 On Saturday 31st March, Craven Community Projects Group has invited professional actors from the Leeds Royal Armouries Museum to present three dramatic interpretations and different views of The Great War in the Octagon Theatre at Grassington Town Hall. These performances are part of the Community Information Day being held in the Town Hall.
The audience will be able to listen to real life accounts and the actual words of the men who were in the trenches and the women on the home front.
Highlights Include:
Christmas Truce: The remarkable events of Christmas Day 1914
A soldier talks about the remarkable events during the first Christmas Day of The Great War, when all across the frontline, an incredible thing happened. Soldiers on both sides put down their weapons and spontaneously celebrated Christmas in 'no-man's land' and German and Allied soldiers in opposing trenches called a temporary peace on the Western Front.
The Shell Girl: 1914-1918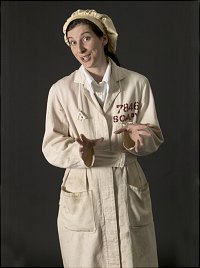 A worker at the Barnbow Munitions Factory in Leeds talks about the great danger faced, providing ammunition for the war effort. Nearly a quarter of the British Artillery shells used in the First World War were made in Leeds, many of those by women at the Barnbow Munitions Factory. The rush of male volunteers for the front had left a gap in the workforce, which was filled, for the first time, by women.
Many believe this wartime work added greatly to women's campaign for equal rights, not least because of the self-confidence it gave to millions of women.
When The Guns Stop Firing: 1918
A soldier who has survived the horrors on the battlefields of Northern Europe reflects on his experiences on the Western Front, November 11th, the day the guns stopped firing. By the end of the Great War more than eight million soldiers from over twenty countries had lost their lives. Those who survived were expected to return to their previous lives and carry on as before. However, with the emotional scars they carried and little public perception or understanding of post-traumatic stress, many of these men found it impossible to step back into civilian life.
Thanks to funding from the Local Heritage Initiative and the Heritage Lottery Fund, entrance to these performances will be FREE, however the theatre has a limited number of seats, so tickets will be allocated on the day on a 'first come, first served' basis. By offering two separate back-to-back performances we hope to accommodate as many people as possible.

You can find more information about the Royal Armouries at www.royalarmouries.org