Main CPGW Record
Surname: LISTER
Forename(s): Charles Alfred (The Hon.)
Place of Birth: London
Service No: ---
Rank: Lieutenant
Regiment / Corps / Service: Royal Marine Light Infantry
Battalion / Unit: Hood Battalion
Division: Royal Naval Division
Age: 27
Date of Death: 1915-08-28
Awards: ---
CWGC Grave / Memorial Reference: II. J. 179.
CWGC Cemetery: EAST MUDROS MILITARY CEMETERY
CWGC Memorial: ---
Non-CWGC Burial: ---
Local War Memorial: GISBURN, YORKSHIRE
Additional Information:
The Hon. Charles Alfred Lister (born 26 October 1887) was the son of Thomas, 4th Lord Ribblesdale and Lady Charlotte Monckton Lister, née Tennant. Thomas was born at Fontainbleu, France and Charlotte at Glen House, Traquair, Peeblesshire.
1891 Easton Grey, Wiltshire Census: Easton Grey House - Honble. Charles Lister, aged 3 years, born Hanover Square, London, son of Thomas Lister, Lord Ribblesdale and Charlotte, Lady Ribblesdale. [Charles and his parents were living with his uncle and aunt, Thomas Graham and Katherine Lucy Smith.]
1901 Eton, Buckinghamshire: The Chambers, Eton College - Charles Alfred Lister, aged 13 years, born London. Boarder. Student.
1911 Easton Grey, Wiltshire Census: Easton Grey House - Honble. Charles A. Lister, aged 23 years, born London, nephew of Lucy Graham Smith, widow.
Charles is commemorated on the Balliol College War Memorial, Oxford.
In July 1916 the Royal Naval Division was numbered and became the 63rd (Royal Naval) Division.
Data Source: Craven's Part in the Great War - original CPGW book entry
View Entry in CPGW Book
Entry in West Yorkshire Pioneer Illustrated War Record:
LISTER, Hon. Chas. A., [Gisburn], aged 27, son and heir of Lord Ribblesdale, of the Hood Battalion, died from wounds on Aug. 28, 1914.
---
Click the thumbnail below to view a larger image.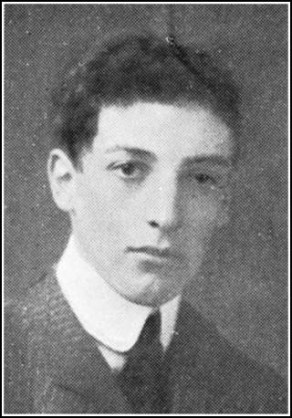 Lieutenant Charles Alfred (The Hon.) LISTER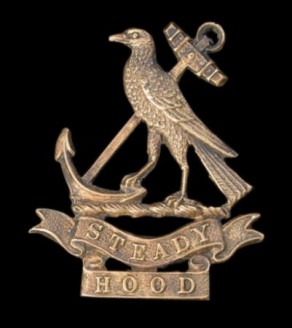 Regiment / Corps / Service Badge: Royal Marine Light Infantry

Divisional Sign / Service Insignia: Royal Naval Division
Soldiers Died Data for Soldier Records
Surname: LISTER
Forename(s): Hon Charles Alfred
Born:
Residence:
Enlisted:
Number:
Rank: 2/Lt
Regiment: Household Cavalry and Cavalry of the Line (incl. Yeomanry and Imperial Camel Corps)
Battalion: 1st County of London Yeomanry
Decorations:
Died Date: 26/08/15
Died How: Died
Theatre of War:
Notes: (Temp Lt R M)
CWGC Data for Soldier Records
Surname: LISTER
Forename(s): The Hon. Charles Alfred
Country of Service: United Kingdom
Service Number:
Rank: Lieutenant
Regiment: Royal Marines
Unit: Hood Bn. R.N. Div.
Age: 27
Awards:
Died Date: 28/08/1915
Additional Information: Son of Thomas 4th Lord Ribblesdale, and Charlotte, his wife, of Gisburne Park, near Clitheroe, Lancs. Secretary in H.M. Diplomatic Service. (CWGC Headstone Personal Inscription: ONLY SURVIVING SON OF THOMAS 4TH LORD RIBBLESDALE AND CHARLOTTE HIS WIFE)
View Additional Text For Soldier Records
'Clitheroe Times' (13 November 1914)
(Kindly supplied by Shirley Penman of Clitheroe and Dorothy Falshaw of Gisburn)
[Untitled article]
It is announced that the Hon. Charles Alfred Lister, Lord Ribblesdale's heir is going on active service as interpreter attached to a regiment of which his brother-in-law, Colonel Mathew Wilson is commanding officer. The Hon. Charles, who has served some years in the diplomatic service at Constantinople from whence he returned only the other day, was twenty-seven last month. Lord Ribblesdale, by the way, has just attained his 60th birthday.
THE HOOD BATTALION, by Leonard Sellars (Pen & Sword Books Limited 1995)
(Courtesy of the author via Denis Otter)
[Pages 56-57]
… At this time [March 1915] Lieutenant Charles Lister joined the Hood Battalion, after pulling as many strings to get away from HQ as most people pulled to get into it. He took over a platoon in Lieutenant-Commander Bernard Freyberg's company, and reports relate that all was very well at the camp. Lister wrote:
Everything that you get in the town is excellent and we eat and drink like fighting cocks. We get delicious prawns for practically nothing … I am in a very good battalion, the Hood. It is great fun having a small executive to command as I have.
He also wrote to his father, Lord Ribblesdale:
I have got a platoon and bellow out orders which I understand though darkly bur which are carried out punctiliously by my men, who are mostly old hands, having been stokers.
Later Shaw-Stewart stated:
I missed the spectacle of Charles drilling stokers on Yeomanry lines - an entrancing one, I have been told. There is one story of how he marched a body of men on to the parade ground, before the eyes of the brigade, and in his resonant tone ordered them to halt in words suited to the evolutions of quadrupeds…
[Page 58]
…The inspection went well, though, and the division was complimented on its appearance. The Hood Battalion band played and entertained. Lister wrote:
We marched passed with all the swagger of the rawest recruit, very self-conscious. My company has fine material, nearly all naval reserve men, hard nuts. I feel sort of a baby among them. There are many over 35. The sun is brilliant, and the bayonets flashed like magnesium when it is burnt. The men wear shots now and step along very gaily…
[Page 80]
…Charles Lister wrote:
The next day [Monday, 26 April] routine unrelieved was the order, and we did Swedish exercises in sight of the enemy - rather sick at heart at the delays. We were then moved down to nearer the scene of action, and for three days we watched our ships pound the hills and woods that crowned them. It was a wonderful spectacle; the shrapnel going up like white clouds and then bursting high up and sending down a spray of smoke like a firework, and the lyddite green and yellow which could only be seen when the shell had actually burst on the ground.
The row of one's own gun is deafening. The enemy shrapnel makes a shrill ghostlike scream as it goes through the air overhead. Occasionally little ant-like men could be seen making their way up the cliff face or creeping over the scrub-covered hillside. And once or twice we saw Turks in retreat catching it from the ships' guns…
[Page 83]
…'W' beach, where the Hood landed, is now closed and part of a military camp. Rusting remains of lighters and piers rot in the sand and sea. On each side of the beach, cliffs dominate the sandy crescent; in between, the land extends upwards in a gentle slope to the fields above, where the Hood dug in on their first night ashore. Charles Lister wrote:
We passed a chilly time on the windswept, plateau-like field, with the flare of smoking towns on the skyline as red as red dawn.
The next day, 30 April, the Hood went forward over the ridge and took up positions in support of the 29th Division, digging funk-holes in the long grass behind the firing line. There was much work to be done in landing stores, and occasionally Turkish shells would fall in the water near where they were working. They were also troubled by snipers. Some of the battalion probed the scrub and surrounding small clump of trees to flush out the snipers, but without much success, and they continued to find targets.
After dark, Lister relates that they dug themselves little nests in the heather and drank rum. Occasional shells passed over their heads. One or two fell just short of his position. At about midnight the dug-in troops were woken by a tremendous volume of rifle and machine-gun fire, which seemed to Lister to be at their very doors. It lasted for about an hour, and then the Hood was ordered to advance through a marshy ravine overgrown with water weeds and olives…
[Pages 84-85]
…In daylight the Hood advanced past many Turkish dead. According to Lister:
One officer advanced up a certain gully and counted hundreds of dead. They must have lost enormously. The Turks were retreating and all the British reserves had been drawn into the line apart from Cox's Indian Brigade, which had just landed. The British position on the peninsula was very thinly held.
At 10am on Sunday, 2 May they were ordered to advance again. It was a beautiful morning, with the sound of birds singing merrily. The Hood marched up the gully and moved out to the left, bayonets fixed. But, as Joseph Murray relates:
The Turkish firing squad was waiting. We thought that, after the punishment we had given them during the night of 30 April/1 May, they had moved out. We were wrong. Shrapnel and machine-gun fire made the men spread out. We advanced about 400 yards from our old position in some short rushes, until the hail of bullets made a further advance impossible. An order came to dig in.
With the advance held up, reinforcements were sent in the form of the 2nd Hampshires, a regular unit of the 29th Division. Seeing them moving forward the Turks increased their shrapnel fire, but the Hampshires came on in perfect formation. The scene made a lasting impression on Murray and other naval troops watching:
They came up just like puppets on a string. They would advance 20 yards and get down as one. Up together, advance, then down together, all the time getting less and less. Their advance under such terrible fire was an object lesson to we civilian soldiers, and the value of training was brought home to us during those glorious minutes.
The fire became so intense that, on the evening of 2 May, Lieutenant-Colonel Quilter had no alternative but to order the Hood to retire with the Hampshires. Lieutenant Lister's company was the last to retreat, and as they went a shrapnel burst about 30 yards behind Lister; he was struck in the buttock and was soon bleeding profusely. Despite this, he wrote of the event that his men had done well, considering the trying circumstances and their relative rawness. Total Hood casualties in the short-lived advance were five officers and 75 men killed or wounded…
[Pages 111-112]
…The period after the battle of 4 June was on of reorganization and rest, interspersed with routine supply duties and fatigues. By 10 June, swelled by some 225 men and three officers transferred from the disbanded Collingwood Battalion, the Hood could muster 14 officers and 705 men. These separate parts had to be welded into another effective fighting force, but this would not be easy. Having returned to the battalion after injury, Lieutenant Charles Lister described the task ahead in letters written between 23 June and 1 July:
I shan't find my battalion much in the swing of it yet awhile; we are, I fancy, too reduced, and now getting ourselves together again under our ex-second in command, Major Myburgh ….
The battalion is a mixed lot now, filled up with odds and ends from new formations, etc…. I am now a second-in-command of a company under a real type, Chalmers by name, whom I am very fond of, bur this will not last for long when more of our wounded return. I am the baby of the Hood. We have been subjected to pi-jaws on the subject of brigade reorganization, which has been necessary in our case and accompanied by some friction, as it involved the break-up of two young battalions to make up to strength ….
Soldiers, of course, have much practice at stump oratory, as the most junior platoon officer is supposed to lecture his men. I have studiously avoided doing so.
As the calendar moved on to July, the Hood and the 2nd Naval Brigade were still not in a front line position. Further extracts from Lister's letter of early July give an indication of the conditions:
My dug-out is now fairly well organized, though I had two wet nights owing to holes in my waterproof sheets, which treacherously let the water-pool there find its way to the apertures and pour down on my devoted head. Shells come down from time to time. Yesterday three burst on our lines, without doing any damage bar riddling poor Patrick's best khaki tunic (luckily he was not in it, but it was hanging on a tree) and covering his sleeping bag with soot. One fell in the lines next to us, killing two and wounding ten men. So it is purely a matter of chance ….
At night our camp looks lovely, with little lights in the dug-outs shining through the sacking and waterproof sheets, and the olive trees in relief against the sky and silvery in the moonlight. The darkness, moreover, hides the grassless state of our lines ….
The men in the trenches seem most cheerful and pretty comfortable, though they don't get much sleep, as heat and flies stop their getting it by day and rifle-fire and watches stop them at night. I am rather annoyed at this continual state of inactivity, as we can't really get to know our men or train them if we are always doing fatigues and living under the eye of the Turkish gunners. Our new men want a lot of shaking down. We have not enough officers ….
I did some sniping at a Turkish loophole, and had two shots hitting the iron round the loophole quite neatly. The men love sniping ….
The beaches are the most extraordinary places, full of dug-outs, and just like London, for no-one knows who is his next-door neighbour is, and to find any one is practically an impossibility. The beach take themselves very seriously, and one would think that no-one else on the peninsula is in any danger whatsoever…
[Pages 116-117]
…My great-uncle, Albert Walls, was killed at this point in the campaign…
Lieutenant Charles Lister wrote a letter on 18 July which tends to support the family belief that Albert was killed by a sniper:
We are in the trenches. We went in about three days ago. They are old Turkish trenches, with one or two admirably protected dug-outs, which we suspect the Turks have been made to hollow out for the German officers. It is fairly whiffy, and there are quite a number of dead in the neighbourhood, and the tell-tale stocking or end of boot is now and then seen protruding from the trench wall. We get our share of sniping, even in the support trench, which I have seen most of. One has to drop nimbly past certain critical corners. But there is no need for anyone to get hit if they keep down. The Turks are sniping from a long way off and fire by chance. The communications trenches are rather ticklish by day, though safe enough by night. There are occasional dead bodies where people have been killed, and it is an awful job getting our men past them: they have a sort of supernatural fear of trampling on their own dead - this kind of feeling of awe is felt also by the men in the case of Turkish dead.
[Pages 124-125]
…On 23 August Charles Lister was injured for the third time, yet again by shellfire. He wrote to his father from a hospital ship on 26 August:
Just think, I have been wounded once more, the third time. We were in a trench, observing the Turkish trenches. I went along to see what had happened, got my people back into a bit of a trench they had to leave, then went down to the trench, thinking that the show was over, then got it, being struck in the pelvis and my bladder being deranged, and slight injuries in the leg and calves.
I have been operated on, but am sketchy as to what has been done. I am on a hospital ship, comfy enough, but feeling the motion of it a good deal, and I have to be in bed and cannot change my position. The hours go by slowly, as one does not feel very much up to reading. However, I got to sleep all right.
I feel this will be a longish job, and I don't know where I shall do my cure - perhaps Alexandria. My doctor is quite happy at the way things are doing. The shell that hit me killed one man and wounded the others.
Forgive this scrawl, but it is not easy to write.
But this was the last time Lord Ribblesdale heard from his son. Charles Lister died from his wounds on 28 August, 1915, and was buried in the East Mudros military cemetery on the island of Lemnos. Patrick Shaw-Stewart wrote of him:
The men, both stokers and recruits adored him. They always called him 'Lord Lister'… He was constantly doing the most reckless things, walking between the lines with his arms waving under a hot fire from both sides; but his last wound, like his others, was from a shell in a trench, and no blame could attach.
England & Wales, National Probate Calendar (Index of Wills and Administrations), 1858-1966
1916
LISTER Charles Alfred of Gisborne Park Clitheroe Lancashire lieutenant Royal Naval Division died 28 August 1915 at Gallipoli Administration London 1 January to the right honourable Thomas 4th baron Ribblesdale. Effects £705 3s. 6d.
View Craven Herald Articles

14 May 1915
Lord Ribblesdale's Heir
An interesting name to the people of Craven in Saturday morning's casualty lists is that of Mrs. Asquith's nephew, Lieutenant the Hon. Charles Lister, who has been wounded in the Dardanelles campaign. Lieutenant Lister's father, Lord Ribblesdale, married a sister of Mrs. Asquith. Lord Ribblesdale is not one of the wealthiest of our peers, but his soldier son will one day inherit an estate of 5,000 acres, a fine house in Manchester Square, and the family seat, Gisburne Park. Lieutenant Lister created a mild sensation in society a few years ago by throwing in his political lot with the Socialist party. After a brilliant career at Eton and Balliol, he announced his conversion to Socialism. He wore a red tie habitually, and joined the Blackburn branch of the Independent Labour Party. His attitude won the enthusiastic approval of Labour leaders. Shortly afterwards, however, Mr. Lister left the I.L.P. in deep disgust because one of its publications had made a deliberate attack on his family. He is now regarded as an orthodox Liberal.
03 September 1915
LIEUTENANT THE HONOURABLE CHAS. A. LISTER WOUNDED
Lieutenant the Hon. Charles A. Lister, the only surviving son and sole heir of Lord Ribblesdale, was wounded on the 24th ult. for the third time during the war. He is a lieutenant in the Royal Marines, and is with the Royal Naval Division in the Mediterranean.
10 September 1915
LORD RIBBLESDALE'S HEIR KILLED – Hon. C. Lister Succumbs to Wounds
In the casualty list issued on Friday was the name of Lieut. The Hon. Charles A. Lister, R.M., of the Hood Battalion, who was reported wounded in Gallipoli, August 24th, as reported in our last week's edition, and who succumbed to his injuries on August 28th. Lieut. Lister was the only surviving son and heir of Lord Ribblesdale, of Gisburne Park. His elder brother was killed in action at Vidhalli in Somaliland, in 1904. He held a commission in the Middlesex Hussars, and had been twice previously wounded. He went out to the Dardanelles in the Spring to take up a post as interpreter on board one of the warships there. He was 27 years of age.
Lieutenant Lister was in the diplomatic service, his first position having been in the British Embassy at Rome, from which he was transferred to Constantinople, where he was stationed when war broke out. Joining the Royal Naval Division he went to the Dardanelles.
The Hon. Charles Lister, when a nineteen year-old boy at Eton, created a mild sensation by announcing his conversion to Socialism. He was member of P.O.P., and a great debate took place on the subject, 'Ought we to welcome the advent of the Labour Members of Parliament?' Shortly after the General Election of 1905, he made the first speech, advocating Socialistic principles, that had ever been listened to within the walls of the Eton Debating Society.
He stated that it was through reading that he had become a Socialist. He found no remedy for the injustice of our social system in the Tory or Liberal programmes, and therefore applied for help to the Labour party.
Heir to 4,800 acres, he held that the rural population could not be stayed so long as this present system of land tenure obtained, and complained that land was still in the hands of the aristocracy. "Eton does not take politics very seriously," he added, "so I have not been kicked round the 'quad' four times every morning before breakfast, and I have not been consigned to Coventry. My opinions are respected by few, tolerated by many, and persecuted by none."
Shortly after this declaration of faith a young man turned up at a meeting held by Mr. Victor Grayson, at Rochdale, announced himself as the Hon. Charles Lister, and delivered a fervent, socialist speech, expressing a hope that the aristocracy, who were the real unemployed, would be reduced to marching through the streets with banners saying "Curse your charity, give us work." A few days later, Rochdale Socialists were dismayed to hear that they had been hoaxed, and that Mr. Lister had never been to the town. Who impersonated him so successfully has never been discovered.
He retired from his membership of the Independent Labour Party on account of an attack on his family, and resigned his membership of the Blackburn branch.
His mother, the late Lady Ribblesdale, was a daughter of the late Sir Charles Tenant, Bart., a sister of Mrs. Asquith, wife of the Prime Minister, and also of Lord Glenconner.
17 September 1915
GISBURN – THE LATE HON. CHARLES LISTER
Gisburn is mourning the loss of Lieut. the Hon. Charles Lister, son and heir to Lord Ribblesdale. On Sunday a memorial service was held at Gisburn Parish Church, which was crowded. Lord Ribblesdale, his daughters –Lady Wilson, Lady Lovat, and the Hon. Mrs. Percy Wyndham – were present, and in addition to representatives of all the chief families in the neighbourhood, there attended Lord and Lady Desborough, who are staying at Sawley Lodge. The service, which was very impressive throughout, opened with the deceased soldier's favourite hymn, 'The Church's one foundation,' and concluded with the 'Dead March' in Saul, and the National Anthem.
The Vicar (Rev. J. Heslop) preached from the words, "God is not the God of the dead, but of the living." He said the war had already cost us dearly, the list of those who had fallen in their country's cause being painfully though gloriously long. The great majority of those who had died were unknown to them, but others had left memories which still remained, like Lieut. Percy Wyndham, whose death in the performance of duty was strikingly characteristic of his life. Yet another, Lieut. the Hon. Charles Lister, who was with them it seemed only yesterday, had given his life for his country. They all remembered him well. The glimpses they had of him showed how ready he was to do his duty, taking his life in his hand cheerfully and contentedly, ever desirous that those near and dear to him should not be made unduly anxious, but at the same time doing his work in hourly peril. Lieutenant Lister, with many others, came forward in the country's hour of need. They gave up much for the sake of duty, and that made their death all the more glorious. To go to the awful trenches in Flanders or Gallipoli was the last thing they had in mind a year ago, but duty called them, and they answered winning glory and honour in a way neither they nor their friends expected. The name Lister would never be forgotten in that parish. He was brave, sagacious, loyal, and vigorous, but those who knew him best were most struck by his freedom from self-regard. He felt no malice, asserted no rights, and took no vengeance.
08 October 1915
LORD RIBBLESDALE'S THANKS
The Clerk read the following letter from Lord Ribblesdale in reply to the Council's vote of condolence on the death of his son, the Hon. Charles Lister:–
Gisburn, Sept. 12th
"I write to thank the Urban Council for their sympathy and condolence. Believe me I am truly grateful to my Barnoldswick friends and neighbours for this remembrance of me and my family, and their recognition of the duty and service my dear son Charles has rendered to his Country. Will you convey my gratitude to your Council, and believe me,
"Yours sincerely, Ribblesdale."
05 January 1917
HON. CHARLES LISTER
Lord Ribblesdale's memoir of his only son, the Hon. Charles Lister (who was well known and respected in Craven), is one of the most distressing chapters in the history of the war, and one of the brightest (says the 'Yorkshire Post' of Wednesday this week), in reviewing Lord Ribblesdales' book just published by Fisher Unwin. The loss of a brilliant and lovable character who had entered upon what seemed likely to be a career of distinction is saddening, but there is consolation even to the bereaved in reflecting that the best has been sacrificed in a noble cause. Lord Ribblesdale does not speak of his private sorrow. His only purpose is to preserve the memory of one who, in the words of Sir Rennell Rodd, his chief in the British Embassy at Constantinople, "combined the spirit of a sportsman and the love of adventure with the instincts of the scholar gentleman." The memoir is brief; it is written with affection and with justifiable pride, and with something of the easy gaiety and good sportsmanship which always characterised the relations of father and son. Lord Ribblesdale's many friends in Yorkshire will understand this spirit, and honour it. If he had chosen, Charles Lister might have retained his post in the Diplomatic Service, as the Government desired, and kept out of the war, but he would not. By some scheming he came to England, obtained a commission as interpreter to the Staff of the Royal Naval Division, and went out to Gallipoli, where he was thrice wounded. He helped to bury his friend Rupert Brooke in a rocky ravine under Mount Paphlee, and was himself laid to rest at Mudros, almost within hearing of the guns. He had been mentioned in despatches for his resource and bravery, and Sir Ian Hamilton pays a high tribute to his cheery gallantry.
Charles Lister was a young man of remarkable ability. When he was a child, Mr. Gladstone said of him: "He seems to be a clever man." A boyish fondness for long words impressed the statesman, but this weakness was soon thrown off, and Lister cultivated a literary style of engaging simplicity and force, which probably he derived in part from his father. The whole book, consisting largely of Charles's letters, and his father's footnotes, is charmingly written. The story of Charles's association with the Independent Labour Party during his Eton days, and for some time afterwards, is told by Lord Ribblesdale with indulgent merriment:
"I enjoyed this Socialist or Fabian period, and was sorry in a way when its blood-heat passed off … I felt that he had things in his mind which were capable of practical expression, which some day he would express. But the day came when he abandoned these castles in Spain, and resorted to the Sydney Webbs. I use the term generically. The remedies for the race – at this time wholly comprehended and involved in Labour – were to be prescribed regulations, by-laws and returns, based on statistics, and worked out to decimals. I was able to lend him two or three books of this dismal gospel, and I got him more from the London Library. Yet, curiously enough, I do not remember seeing him read this sort of book, though I suppose he did… But let me return to his relations with the I.L.P.
"The day came when he elected to be received within its bosom; we were neither pleased nor displeased. His mother thought it a mistake to contract himself out of being helped by the machinery and caucus support of either of the two great recognised parties – at that time a condition of adoption and grace; but she was reassured by Mr. A. J. Balfour, who was mildly interested and approving. Indeed, he pointed out to her that Charles would get all sorts of experience and some sort of special knowledge which might be of more use to him in after-life than if he kept Selling Platers, or ran an actress. I was present and I heartily concurred. The ceremonies took place at Blackburn, and I rather think Mr. and Mrs. Snowdon were his hosts for the occasion; anyhow, either then or very soon after, he enjoyed their hospitality."
Hospitality was returned, and the Independent Labour Partyites were entertained at Gisburne Park, Lord Ribblesdale recalls the incident with good humour:
"One day a reception of the I.L.P and a tea party took place at Gisburne; speeches were made by leading Extremists, slightly cramped in style by their courteous reservations in favour of one particular park and one particular proprietor. Mr. Clough, the Member of our division, made a capital, if unexpected, speech, all but rebuking Charles for having acted hastily in cutting himself off from the traditions to which it had pleased God to call him."
After a while, Charles tired of the I.L.P. and his early interest in Socialism became "platonic and critical," and in 1911 he wrote to his friend T. Lascelles:
"I feel the Labour grievance as strongly as ever but I've lost faith in most of the remedies I used to believe in. If only they could get back to the old sober trade unionism, and to collective bargaining on the old lines. But a change of spirit in most of the trade unions is required before this is achieved."
Charles Lister did brilliantly at Balliol College, Oxford, and entered the Diplomatic Service. After two years in our Embassy at Rome, he moved to Constantinople. His letters reveal a close study of European questions, and a remarkably shrewd judgement of what Germany was aiming at in Turkey. A few passages in letters might with advantage have been pruned, but they are eminently readable, and lift a corner of the veil which conceals the life of a diplomat and the relations of European Embassies in Constantinople. His letters from Gallipoli give a most graphic description of the glorious but disappointing campaign, and illustrate afresh the buoyancy of the British character in the face of bad luck. They strike also a deeper note. Charles Lister, like Rupert Brookes and many another, was blithe and hopeful in the presence of death and the mystery of the Unknown. "I am glad that you pray for me," he wrote home; "I know now that I shall live. I do not mean that I may not be killed." At his bedside, after his death, there was found a little pile of books which he had been reading as long as reading was possible. Among them were Dante's 'Purgatory,' the 'Imitation of Christ,' the Koran, a book of Italian verse, and some volumes of Goethe. With Charles Lister this was not his death-bed literature. Such books were his life companions and he read them with Thackeray, Anatole France and other great and cheerful spirits. A man is known by his books.
04 July 1919
PEACE SUPPLEMENT TO THE 'CRAVEN HERALD' – CRAVEN'S FALLEN OFFICERS
LIEUTENANT THE HON. C. A. LISTER, R.N.
Hood Battalion, son and heir of Lord Ribblesdale, Gisburne Park. Died of wounds received in Gallipoli 28th August, 1915.
View West Yorkshire Pioneer Articles

14 May 1915
THE HON. CHARLES LISTER WOUNDED
Lieutenant the Hon. Charles Lister, who was wounded last week on board a ship in the Dardanelles, is a son and heir to Lord Ribblesdale of Gisburn Park. The latter married a sister of Mr. Asquith, wealthiest of our peers, but his soldier son will one day inherit an estate of 5,000 acres, a fine house in Manchester Square, and the family seat, Gisburn Park. Lieutenant Lister created a mild sensation in society a few years ago by throwing in his political lot with the Socialist party. After a brilliant career at Eton and Balliol, he announced his conversion to Socialism. He wore a red tie habitually, and joined the Blackpool branch of the Independent Labour Party. His attitude won the enthusiastic approval of Labour leaders. Shortly afterwards, however, Mr. Lister left the I.L.P. in deep disgust because one of its publications had made a deliberate attack on his family. He is now regarded as an orthodox Liberal.
10 September 1915
LORD RIBBLESDALE'S HEIR DIES OF WOUNDS
The death from wounds of Lieutenant the Hon. Charles A. Lister, who had been fighting with the Hood Battalion of the Royal Naval Division at the Dardanelles, deprives Lord Ribblesdale of his only surviving son and heir and accentuates the grief of a family that had previously suffered severely.
Lord Ribblesdale's eldest son, Captain the Hon. Thomas Lister, was killed in Somaliland in 1904, and the Hon. Percy Wyndham, who married his daughter, the Hon. Diana Lister, at St. Margaret's, Westminster in 1913, was killed early in the present campaign.
Born in October 1887, the late Lieut. Lister was educated at Eton and Oxford, and when 19 years of age attracted wide attention by declaring himself to be a Socialist. Following an expression of his views at a Trade Union Congress, at Liverpool, Mr. Ben Tillett said of him: "He will prove one of the most brilliant exponents of practical Socialism." At the same time Mr. Peter Curran gave it as his opinion that "Mr. Lister's conversion is not a mere fad. He is a most able, sincere, and manly fellow, and a young man who will make his mark."
He was formally admitted to the Socialist ranks by the Blackburn branch of the Independent Labour Party, but eventually severed his connection with the branch in a letter that contained a protest against an article in the 'Socialist Review' which, he alleged, made a "deliberate attack on my family and the family of Lord Lovat." The Hon. Charles Lister also had occasion to resent an 'impersonation' of him at a meeting in Rochdale at which he was not present.
Before the war he was in the diplomatic service in Rome and Constantinople. His sister, the Hon. Laura Lister, was married to Lord Lovat, the chief of the Clan Fraser, at the Brompton Oratory in 1910. His father, Lord Ribblesdale, is the fourth baron, the title having been created in 1797. There is now no heir to the barony. He was a nephew of Mrs. Asquith.
24 December 1915
CRAVEN'S ROLL OF HONOUR – GISBURN
Hon. Chas. A. Lister, son and heir of Lord Ribblesdale, of the Hood Battalion. Died from wounds on August 28th. Aged 27 years.
Comment on this Soldier Record
You can leave comments on this soldier record. Please note all comments will be manually approved before they appear on the website.