Main CPGW Record
Surname: HANCOCK
Forename(s): Edgar
Place of Birth: Westminster, Middlesex
Service No: 2581
Rank: Private
Regiment / Corps / Service: Guards Machine Gun Regiment
Battalion / Unit: 4th (Foot Guards) Battalion
Division: Guards Division
Age: ---
Date of Death: 1918-09-05
Awards: ---
CWGC Grave / Memorial Reference: III. D. 25.
CWGC Cemetery: MOEUVRES COMMUNAL CEMETERY EXTENSION
CWGC Memorial: ---
Non-CWGC Burial: ---
Local War Memorial(s): Not Listed (View Names Not Listed on a Local War Memorial)
Additional Information:
John Edgar Hancock was the son of John and Ellen Hancock, née Eastwick. John, senior, who served as a regular soldier in the Coldstream Guards, was born at Glastonbury, Somerset, the son of James and Caroline Hancock. Ellen was born at Marazion, Cornwall, c. 1857.
1901 London Census: 52, Lupus Street - John E. Hancock, aged 8 years, born Pimlico, London, son of John and Ellen Hancock.
1911 Glastonbury, Somerset Census: 11, Old Wells Road - Edgar Hancock, aged 18 years, born London, Westminster. [Edgar was living with his uncle, James Hancock.]
British Army WW1 Medal Rolls Index Cards: Pte Edgar Hancock, 17585, C. Gds.; 2581, Gds. M.G.R.
British Army WW1 Medal and Award Rolls: Gdsn Edgar Hancock, 17585, Cold. Gds.; 2581, Gds. M.G. Rgt. Killed 5.9.18.
Army Registers of Soldiers' Effects: Pte Edgar Hancock, 2581, 4th Bn Gds. M. Gun Regt. Date and Place of Death: 5.9.18 in action France. To whom Authorised/Amount Authorised: Father - John. £29 0s. 10d.
Data Source: Craven's Part in the Great War - original CPGW book entry
View Entry in CPGW Book
Entry in West Yorkshire Pioneer Illustrated War Record: ---
---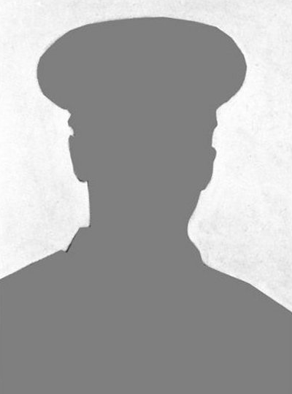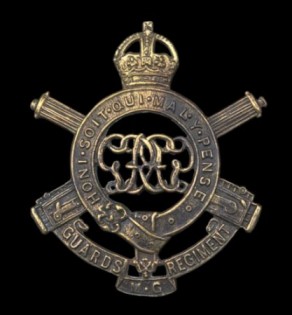 Regiment / Corps / Service Badge: Guards Machine Gun Regiment

Divisional Sign / Service Insignia: Guards Division
---
---
---
Comment on this Soldier Record
You can leave comments on this soldier record. Please note all comments will be manually approved before they appear on the website.