Main CPGW Record
Surname: HARKER
Forename(s): Robert Percy
Place of Birth: Pateley Bridge, Yorkshire
Service No: ---
Rank: 2nd Lieutenant
Regiment / Corps / Service: Prince of Wales's (North Staffordshire Regiment)
Battalion / Unit: 1st Battalion
Division: 6th Division
Age: 42
Date of Death: 1915-03-20
Awards: ---
CWGC Grave / Memorial Reference: B. 15
CWGC Cemetery: CHAPELLE-D'ARMENTIERES OLD MILITARY CEMETERY
CWGC Memorial: ---
Non-CWGC Burial: ---
Local War Memorial: MIDDLESMOOR, YORKSHIRE
Local War Memorial: PATELEY BRIDGE, YORKSHIRE
Additional Information:
Robert Percy Harker (born 18 February 1873) was the son of William and Sarah Ann Harker, née Hodgson. William was born at Pateley Bridge and Sarah at Bradford, Yorkshire.
1881 Pateley Bridge, Yorkshire Census: Harefield House - Robert P. Harker, aged 8 years, born Pateley Bridge, son of William and Sarah A. Harker.
Robert attended Charterhouse School, Godalming, Surrey.
Robert was married to Eva Josephine Malone (born Dublin, Ireland, 1 June 1875). Eva died in 1905. Their children were: Robert William (1898-1901); John Frederick Patrick (1900-1900) and Frederick William George (1901-1940). Frederick served in WW2 as a Lieutenant-Commander in the Royal Navy. He died on the 27 July 1940 when his destroyer (H.M.S. 'Wren') was bombed and sunk by German aircraft about 20 nautical miles east of Aldeburgh, Suffolk. He is buried in Shotley Royal Naval Cemetery, Suffolk.
Eva's father, Joseph Malone (born Eccles, Manchester, Lancashire, 11 January 1833), was awarded the Victoria Cross in the Crimean War (1853-1856). The medal was won on the 25 October 1954 during the Battle of Balaklava (the Charge of the Light Brigade).
1901 Barnes Civil Parish, Surrey Census: 6, Ceders [sic] Wood - Robert P. Kanker [sic], aged 28 years, born Pateley Bridge, Yorkshire, husband of Eva J. Kanker.
1911 Maidenhead, Berkshire Census: Hill Cottage - Robert Percy Harker, aged 37 years, born Pateley Bridge, Yorkshire, widower.
British Army WW1 Medal Rolls Index Cards: Pte R.P. Harker, 1560, Honourable Artillery Company & 2/Lt North Staffordshire Regiment. Disembarkation date: 18 September 1914.
Data Source: West Yorkshire Pioneer Article
---
Entry in West Yorkshire Pioneer Illustrated War Record: ---
---
Click the thumbnail below to view a larger image.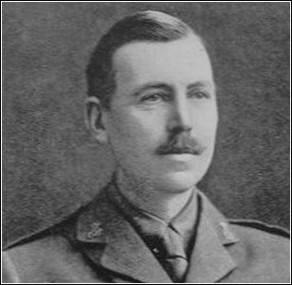 2nd Lieutenant Robert Percy HARKER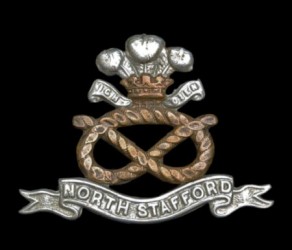 Regiment / Corps / Service Badge: Prince of Wales's (North Staffordshire Regiment)

Divisional Sign / Service Insignia: 6th Division
---
---
Comment on this Soldier Record
You can leave comments on this soldier record. Please note all comments will be manually approved before they appear on the website.