Main CPGW Record
Surname: WALLBANK
Forename(s): Bertie
Place of Birth: Kelbrook, Yorkshire
Service No: 12/3857
Rank: Private
Regiment / Corps / Service: Auckland Regiment
Battalion / Unit: 1st Battalion
Division: New Zealand Division
Age: 21
Date of Death: 1916-09-27
Awards: ---
CWGC Grave / Memorial Reference: ---
CWGC Cemetery: ---
CWGC Memorial: CATERPILLAR VALLEY (NEW ZEALAND) MEMORIAL
Non-CWGC Burial: ---
Local War Memorial: EARBY, YORKSHIRE
Additional Information:
Bertie Wallbank (born 19 December 1894 and baptized at St Mary's, Kelbrook, 26 May 1895) was the son of Arthur Bertie and Alice Wallbank, née Marsden. Arthur was born at Kelbrook and Alice at Salterforth, Yorkshire. Bertie was the nephew of Private Louis Carr Marsden (18615) (q.v.).
1901 Elland, Yorkshire Census: Dewsbury Road - Bertie Wallbank, aged 6 years, born Thornton [Thornton-in-Craven Parish], Yorkshire, son of Arthur B. and Alice Wallbank.
1911 Earby, Yorkshire Census: 38, Aspen Lane - Bertie Wallbank, aged 16 years, born Kelbrook, Yorkshire, son of Alice Wallbank (married). [Bertie's father, a Sergeant in the West Riding Police Force, had resigned on the 6 January 1911 and may have emigrated to New Zealand in that year.]
Bertie was married to Beatrice Caithlene Moran, 17 February 1915, at Auckland, New Zealand.
Bertie enlisted in New Zealand as Arthur Herbert Wallbank.
New Zealand service records: https://www.govt.nz/browse/history-culture-and-heritage/nz-history/get-a-copy-of-a-ww1-service-record/ [In his record Bertie's rank is given as a Private, no other rank is mentioned.]
See also:
'Earby in the First World War' by Stephanie Carter, published by Earby & District Local History Society (2014).
'Our Finest Crop' by Steven Marshall, published by Earby & District Local History Society (2020).
Data Source: Craven's Part in the Great War - original CPGW book entry
View Entry in CPGW Book
Entry in West Yorkshire Pioneer Illustrated War Record:
WALLBANK, Quartermaster Sergeant Bertie, aged 21, Auckland Regiment, son of Mrs. Wallbank, 19, John Street, [Earby], killed in action 1916.
---
Click the thumbnail below to view a larger image.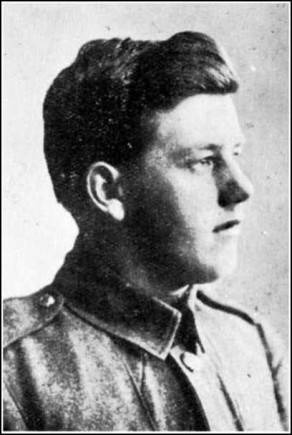 Private Bertie WALLBANK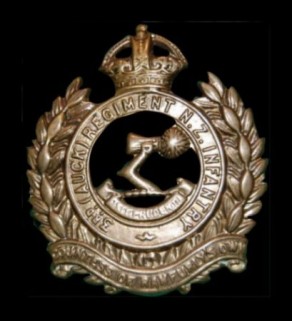 Regiment / Corps / Service Badge: Auckland Regiment

Divisional Sign / Service Insignia: New Zealand Division
---
Comment on this Soldier Record
You can leave comments on this soldier record. Please note all comments will be manually approved before they appear on the website.