Main CPGW Record
Surname: MAUDE
Forename(s): Gerald William Edward
Place of Birth: Rylstone, Yorkshire
Service No: ---
Rank: Captain
Regiment / Corps / Service: Alexandra, Princess of Wales's Own (Yorkshire Regiment)
Battalion / Unit: 1st Battalion
Division: division unknown
Age: 30
Date of Death: 1919-11-05
Awards: ---
CWGC Grave / Memorial Reference: Face 1.
CWGC Cemetery: ---
CWGC Memorial: DELHI MEMORIAL (INDIA GATE)
Non-CWGC Burial: ---
Local War Memorial: CRACOE, YORKSHIRE
Local War Memorial: RYLSTONE, YORKSHIRE
Local War Memorial: SEDBERGH SCHOOL, YORKSHIRE
Additional Information:
Gerald William Edward Maude (born 20 November 1888) was the son of William Wade and Beatrice Letitia Lucy Geraldine Maude, née Day and brother of Captain Michael Day Wade Maude (q.v.). Their father was born at Rylstone, Yorkshire and mother at Tralee, Co. Kerry, Ireland.
1891 Rylstone, Yorkshire Census: Fleets House - Gerald W.E. Maude, aged 2 years, born Rylstone, son of Wm. Wade and Beatrice L.L.G. Maude.
1901 Ilkley, Yorkshire Census: Wharfedale School - Jerald [sic] W.E. Maude, aged 12 years, born Rylstone, Yorkshire.
Gerald was married to Edith Violet Constance Thornton in India.
British Army WW1 Medal Rolls Index Cards: Capt G.W.E. Maude, Yorkshire R. Dead. Correspondence: Address: The Fleets, Rylstone, Skipton-in-Craven, Yorks. Widow Mrs.G. Perry, 65, Ashley Gardens, SW1.
British Army WW1 Medal and Award Rolls: Capt G.W.E. Maude, Yorkshire Regiment. Died 5.11.19.
Army Registers of Soldiers' Effects: Capt G.W.E. Maude, Yorkshire Regt. Date and Place of Death: 5.11.19. Died. To whom issued/Amount: Executrix - Mrs. Edith Violet Constance Maude. £39 10s. 6d.
Although Gerald is commemorated on the Delhi Memorial (India Gate) he is buried in Peshawar (Right) B.C. XXVI. 782.
Had he lived, Gerald would eventually have inherited the property and land of the Hammond family of Arncliffe. Gerald and Edith's son, Michael, became heir to the Arncliffe estate. Gerald was not related to the Hammond family but as there was no direct heir, it was decided to leave the estate to the eldest son or grandson of William Maude, Gerald's father. William had once been engaged to marry Dorothy Elizabeth Hammond* and although the marriage never took place, William remained a friend. When the last descendant of the Hammond family, Miss Isabella Ellen Hammond, died in 1954, Michael, who had served in the Second World War and became a prisoner of war, changed his surname to Hammond-Maude. (The above information comes from 'Littondale Life' by Janet Taylor (1997)).
* In 1901 Dorothy was employing the future Rifleman Joseph Berry (47110) (q.v.).
A short biography of Gerald is included in: 'Swaledale & Wharfedale Remembered - Aspects of Dales' life through peace and war' by Keith Taylor (2006).
Data Source: Craven's Part in the Great War - original CPGW book entry
View Entry in CPGW Book
Entry in West Yorkshire Pioneer Illustrated War Record: ---
---
Click the thumbnail below to view a larger image.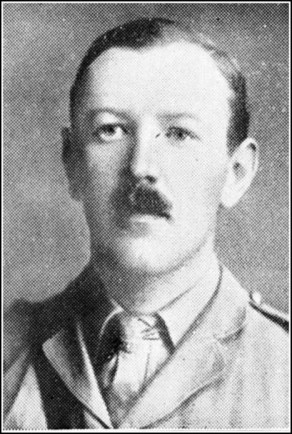 Captain Gerald William Edward MAUDE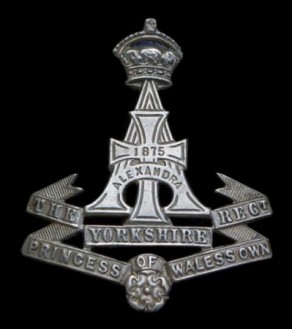 Regiment / Corps / Service Badge: Alexandra, Princess of Wales's Own (Yorkshire Regiment)
---
Comment on this Soldier Record
You can leave comments on this soldier record. Please note all comments will be manually approved before they appear on the website.