Main CPGW Record
Surname: MAUDE
Forename(s): Michael Day Wade
Place of Birth: Rylstone, Yorkshire
Service No: ---
Rank: Captain
Regiment / Corps / Service: Alexandra, Princess of Wales's Own (Yorkshire Regiment)
Battalion / Unit: 'B' Coy 9th (Service) Battalion
Division: 23rd Division
Age: 27
Date of Death: 1917-10-14
Awards: M.I.D.
CWGC Grave / Memorial Reference: In West part.
CWGC Cemetery: RYLSTONE (ST. PETER) CHURCHYARD
CWGC Memorial: ---
Non-CWGC Burial: ---
Local War Memorial: CRACOE, YORKSHIRE
Local War Memorial: RYLSTONE, YORKSHIRE
Local War Memorial: SEDBERGH SCHOOL, YORKSHIRE
Additional Information:
Michael Day Wade Maude (born 29 September 1890) was the son of William Wade and Beatrice Letitia Lucy Geraldine Maude, née Day and brother of Captain Gerald William Edward Maude (q.v.). Their father was born at Rylstone, Yorkshire and mother at Tralee, Co. Kerry, Ireland.
1891 Rylstone, Yorkshire Census: Fleets House - Michael D.W. Maude, aged 7 months, born Rylstone, son of Wm. Wade and Beatrice L.L.G. Maude.
1901 Ilkley, Yorkshire Census: Wharfedale School - Michael D.W. Maude, aged 10 years, born Rylstone, Yorkshire.
1911 Boroughbridge, Yorkshire Census: Ellenthorpe Hall - Michael Maude, aged 20 years, born Rylstone, Yorkshire.
British Army WW1 Medal Rolls Index Cards: Capt M.D.W. Maude, 3rd Batt Yorks. R. att 2nd Yorks. R. Disembarkation Returns: 6 October 1914. Died of Wounds 14.10.17. Correspondence: Lt. Col. Maude (Father) applies for 1914 Star, 28.11.17.
British Army WW1 Medal and Award Rolls: Lieut M.D.W. Maude, Yorkshire Regiment. Date of Disembarkation: 5.10.14. Remarks: Capt. Spec[ial]. Reserve. Died of Wds. 14.10.17.
Army Registers of Soldiers' Effects: Capt M.D.W. Maude, 3 Yorks. Regt. Date and Place of Death: 14.10.17. Wounds. To whom issued/Amount: Admin. Lt. Col. William Wade Maude. £200 15s. 11d.
Michael is commemorated on Aldborough Parish War Memorial.
Michael was buried in St Andrew's Churchyard, Aldborough, Yorkshire on the 19 October 1917. His remains were exhumed and buried in St Peter's Churchyard, Rylstone, Yorkshire, on the 24 October 1919.
A short biography of Michael is included in: 'Swaledale & Wharfedale Remembered - Aspects of Dales' life through peace and war' by Keith Taylor (2006).
Data Source: Craven's Part in the Great War - original CPGW book entry
View Entry in CPGW Book
Entry in West Yorkshire Pioneer Illustrated War Record:
MAUD, Captain Mitchell Day Wade, Ellanthorp Hall, younger son of Lieutenant Colonel and Mrs. Maud, The Fleets, [Rylstone], died of wounds Oct. 14, 1914.
---
Click the thumbnail below to view a larger image.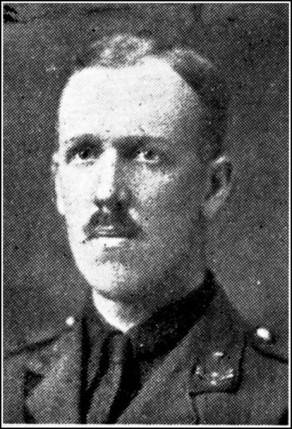 Captain Michael Day Wade MAUDE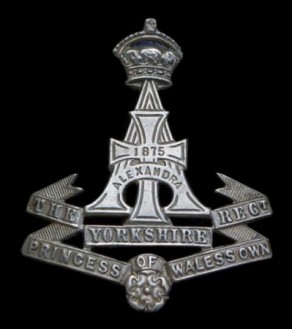 Regiment / Corps / Service Badge: Alexandra, Princess of Wales's Own (Yorkshire Regiment)

Divisional Sign / Service Insignia: 23rd Division
Comment on this Soldier Record
You can leave comments on this soldier record. Please note all comments will be manually approved before they appear on the website.