Main CPGW Record
Surname: KENYON
Forename(s): John de Winton
Place of Birth: Birkdale, Lancashire
Service No: ---
Rank: 2nd Lieutenant
Regiment / Corps / Service: King's (Liverpool Regiment)
Battalion / Unit: 1st Battalion
Division: 2nd Division
Age: 18
Date of Death: 1915-05-16
Awards: ---
CWGC Grave / Memorial Reference: Panels 6 to 8.
CWGC Cemetery: ---
CWGC Memorial: LE TOURET MEMORIAL
Non-CWGC Burial: ---
Local War Memorial: GIGGLESWICK SCHOOL, YORKSHIRE
Additional Information:
John de Winton Kenyon (born 13 September 1896) was the son of Ernest (died 31 August 1907) and Eliza Gertrude Kenyon, née Muir. Ernest was born at Cheetham Hill, Manchester and Eliza at Rochdale, Lancashire. Eliza married Frederick William Hunt in 1921.
1901 Birkdale, Lancashire Census: 37, Trafalgar Road - John de Winton Kenyon, aged 4 years, born Birkdale, son of Ernest and Eliza G. Kenyon.
1911 Giggleswick, Yorkshire Census: Giggleswick School - John de Winton Kenyon, aged 14 years, born Werkdale [sic], Lancashire. [John's elder brother, Ernest Cunliffe Kenyon, was also at the school in 1911.]
British Army WW1 Medal Rolls Index Cards: 2Lt J. de W. Kenyon, 1 Liverp. Rgt. Theatre of War: (1) France. Qualifying Date: 27.4.15. K. in A. 15/16.5.15. Correspondence: Mrs. E.G. Kenyon, 14, Farnborough Road, Birkdale, Southport.
British Army WW1 Medal and Award Rolls: 2/Lieut J. De W. Kenyon. Liverpool Regiment. Date of Disembarkation: 27.4.15. (1) [France]. K. in A. 15-16.5.15.
Army Registers of Soldiers' Effects: 2 Lieut J. de W. Kenyon. Regt. or Corps: Liverpool. Date and Place of Death: K. in A. 15/16.5.15. To whom Issued: Mother - Mrs. Eliza Gertrude Kenyon. £44 0s. 10d. Brother - Ernest Cuncliffe [Cunliffe] Kenyon Esq. £14 3s. 2d.
John is commemorated on the Southport War Memorial.
Photograph: 'Liverpool Echo' (3 June 1915).
Data Source: Craven Herald Article
---
Entry in West Yorkshire Pioneer Illustrated War Record: ---
---
Click the thumbnail below to view a larger image.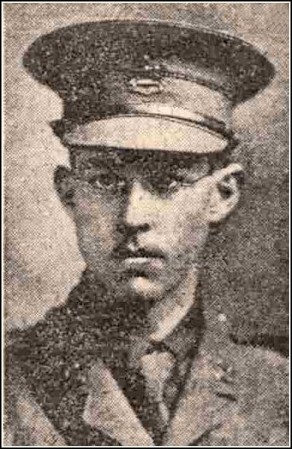 2nd Lieutenant John de Winton KENYON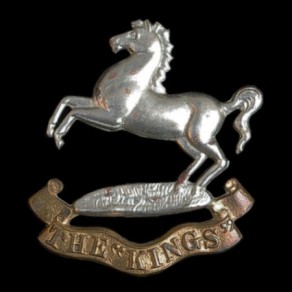 Regiment / Corps / Service Badge: King's (Liverpool Regiment)

Divisional Sign / Service Insignia: 2nd Division
---
Comment on this Soldier Record
You can leave comments on this soldier record. Please note all comments will be manually approved before they appear on the website.