Main CPGW Record
Surname: STANSFELD
Forename(s): John Raymond Evelyn
Place of Birth: Preston, Rutland
Service No: ---
Rank: T/Lieutenant-Colonel (Major)
Regiment / Corps / Service: Gordon Highlanders
Battalion / Unit: 2nd Battalion
Division: 7th Division
Age: 35
Date of Death: 1915-09-28
Awards: D.S.O.
CWGC Grave / Memorial Reference: I. B. 3.
CWGC Cemetery: CHOCQUES MILITARY CEMETERY
CWGC Memorial: ---
Non-CWGC Burial: ---
Local War Memorial(s): Not Listed (View Names Not Listed on a Local War Memorial)
Additional Information:
John Raymond Evelyn Stansfeld (born 20 April 1880) was the son of John Birkbeck Evelyn and Agnes Mary Stansfeld, née Barringer. John senior was born at Settle, Yorkshire and Agnes at Barrow upon Soar, Leicestershire.
1881 Preston, Rutland Census: Preston House - John Raymond Evelyn Stansfeld, aged 11 months, born Preston, son of John Birkbeck Evelyn and Agnes Mary Stansfeld.
1891 Uppingham, Rutland Census: Stockerston Road, Springfield - John R.E. Stansfeld, aged 10 years, born Preston, Rutland. Boarder.
John was married to Constance Yolande de Bourbel de Montpincon in 1904.
1911 Census (India): 2nd Bn The Gordon Highlanders - Captain John Raymond Evelyn Stansfeld, aged 30 years, born Preston, Rutland.
British Army WW1 Medal Rolls Index Cards: Lt Col John Raymond Evelyn Stansfeld, 2nd Gordon Highlanders. Disembarkation date: 7 October 1914. Corespondence: 21, Allen House, Kensington W8.
Photograph: 'The Sphere' (20 November 1915).
Data Source: Craven's Part in the Great War - original CPGW book entry
View Entry in CPGW Book
Entry in West Yorkshire Pioneer Illustrated War Record: ---
---
Click the thumbnail below to view a larger image.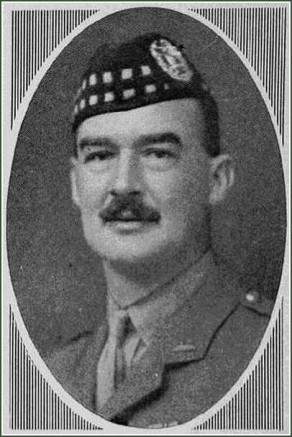 T/Lieutenant-Colonel (Major) John Raymond Evelyn STANSFELD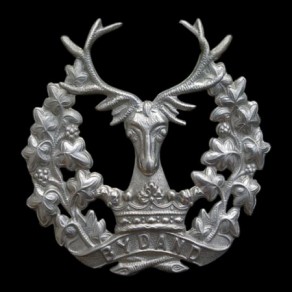 Regiment / Corps / Service Badge: Gordon Highlanders

Divisional Sign / Service Insignia: 7th Division
Soldiers Died Data for Soldier Records
Surname: STANSFIELD [sic]
Forename(s): John Raymond Evelyn
Born:
Residence:
Enlisted:
Number:
Rank: T/Lt-Col (Major)
Regiment: Gordon Highlanders
Battalion: Battalion not shown
Decorations: D.S.O.
Died Date: 28/09/15
Died How: Died of wounds
Theatre of War:
Notes:
CWGC Data for Soldier Records
Surname: STANSFELD
Forename(s): John Raymond Evelyn
Country of Service: United Kingdom
Service Number:
Rank: Lieutenant Colonel
Regiment: Gordon Highlanders
Unit: 2nd Bn.
Age: 35
Awards: D S O
Died Date: 28/09/1915
Additional Information: Son of Marie Agnes and the late J. B. Evelyn Stansfeld; husband of Constance Yolande de Bourbel de Montpincon. (CWGC Headstone Personal Inscription: DEATH OPENS UNKNOWN DOORS IT IS MOST GRAND TO DIE)
View Additional Text For Soldier Records
'The London Gazette' (8 February 1901)
…Second-Lieutenant J.R.E. Stansfeld, 2nd Bn.Gordon Highlanders, attached to Ambulance Company, was conspicuously energetic throughout the whole day under fire, and doing splendid work for the wounded.
'Chelmsford Chronicle' (13 October 1911)
DEATH OF FORMER ESSEX RECTOR
We regret to record the death, very suddenly, on the 7th instant, of Mr. John Birkbeck Evelyn Stansfeld, M.A., of 18 Rossetti-mansions, Chelsea, in his sixty-fifth year. Mr. Stansfeld was formerly rector of Downham in this county. He was well known and very popular, and a noted follower of hounds. A Requiem Mass will be held to-day at 11.30 a.m., at the Church of the Holy Redeemer, Chelsea. The interment took place at Coniston Cold, Yorkshire, on Wednesday.
THE SEVENTH DIVISION 1914-1918, by C.T. Atkinson (John Murray, Albemarle Street, W. 1927)
FIRST YPRES
ZANDVOORDE AND ZILLEBEKE
… The Gordons had lost heavily that day (October 31st 1914), but in the final counter-stroke they had the satisfaction of taking full vengeance for their losses. When General Bulfin saw them coming up, led by their giant Adjutant, Captain Stansfeld, now the senior officer present, he ordered them to form a single line and to push forward through the wood, cheering and making as much noise as possible, so as to make the Germans think a big force was coming up. Directly they started cheering the firing-line was to open rapid fire, and when the Gordons reached the front the Sussex and Northamptons were to join in the charge.
The plan worked admirably: when 300 yards away from the firing-line the Gordons started cheering. On that there came a burst of rapid fire from the firing-line, a 'mad minute' at the rate of 18 rounds such as the Germans never dreamt of, and as the Highlanders reached the firing-line all rose up together and went for the Germans. The latter turned and ran, pursued hotly by Bulfin's men. There was not much taking of prisoners, but the flying Germans were bayoneted and shot in hundreds, and the counter-stroke was carried forward to a depth of over half a mile, when it was within 100 yards of the original line of the morning…
THE LIFE OF A REGIMENT VOLUME IV. The Gordon Highlanders in the First World War 1914-1919, by Cyril Falls (Aberdeen the University Press 1958)
NEUVE CHAPELLE TO SECOND YPRES
…In the attack [Battle of Neuve Chapelle, 1915] of March 13th the 2nd Gordons were to take the place of the 2nd West Yorkshires, 21st Brigade, and at 9.30 a.m. to capture trenches and a few houses at the Moulin du Pietre. The bombardment had quite failed to silence the enemy's machine-guns. The commanding officer, Lieut.-Colonel H.P. Uniake, who had rejoined only at the end of January after having been wounded in the Battle of Ypres, was killed while examining the ground over which his battalion was called on to advance. His successor, as at Ypres was J.R.E. Stansfeld, now a major. He in turn was wounded, but remained for some time with his men. He came to the conclusion that it would be suicidal to attack until accurate artillery fire could be arranged – at the moment British shells were falling in his own shallow trenches – in face of the murderous fire. He therefore stopped the assault and as soon as possible reported that he had done so. Command of the battalion passed to Capt. J.M. Hamilton…
…Lieut. Colonel Stansfeld, returning to take command of the 2nd Gordons on recovery from his wound just after the battle, found the battalion "as pleased as Punch"…
LOOS
…The 2nd Gordons almost at once ran into a belt of British gas, which had drifted on a light breeze from the south-west and in places was blown back into the advancing assailants. The troops had to don their clumsy flannel helmets, but a good many were overcome. Piper Munro piped through the cloud to encourage the men. The German front line was taken without difficulty, but there was more resistance in the support trench, where some fifty prisoners were taken. The battalion had already lost its commanding officer, Lieut. Colonel J.R.E. Stansfeld, who was mortally wounded – a great fighting man who could ill be spared. Before he died he sent from the casualty clearing station the message: "Well done, dear old 92nd!"…
England & Wales, National Probate Calendar (Index of Wills and Administrations), 1858-1966
1911
STANSFELD John Birkbeck Evelyn of 18 Rossetti-mansions Chelsea Middlesex died 7 October 1911 Probate London 6 December to Charles Percy Charlesworth solicitor. Effects £1524 0s. 7d.
1916
STANSFELD John Raymond Evelyn of the Bath Club 34 Dover-street Piccadilly Middlesex died 28 September 1915 at Number 1 Casualty Clearing Station Chocques France from wounds received in action Probate London 6 March to Constance Yolande Stansfeld widow Martin Drummond Vesey Holt Army agent and George Reginald Stansfeld esquire. Effects £3439 9s. 6d.
1931
STANSFELD Agnes Mary of 17 Vicarage-road Hampton Wick Surrey widow died 24 May 1931 at Nightingale House Twickenham Middlesex Probate London 29 July to Marion Elizabeth York widow. Effects £329 6s. 3d.
Additional Photo(s) For Soldier Records
View Craven Herald Articles

19 February 1915
THE DASH FOR CALAIS – CRAVEN OFFICER'S GALLANT CONDUCT
In the 'Dundee Advertiser' a short time ago appeared an interesting interview with Drummer Pearson, who was at his home at Lochee, who was one of the Seventh Division (Gordon Highlanders) of the British Expeditionary Force which held the road to Calais against the German hordes during the terrible two days at end of October, when they suffered severely during their gallant and successful attempt to hold the enemy at bay. The interest of the interview to our readers lies in the fact that Capt. Stansfeld, one of the officers, is a brother of Mrs. Yorke, of Halton Place, Hellifield, and one who is well known in Craven. Capt. Stansfeld was wounded during one of the engagements, and after three weeks' leave, returned to the front. Of the 31 officers who west into action on October 30th only two were unscathed by November 2nd, and what was left of the Battalion was under the command of Lieutenant (now Captain) J. M. Hamilton, with Second Lieutenant W. J. Graham as his acting Adjutant. The other officers, including Capt. Stansfeld, the Adjutant, had either been killed, wounded or were reported missing. The regiment was quartered at Cairo when war broke out. They got as for as Ghent before hearing that Antwerp had fallen, and took up a position on a canal bank to cover the retirement of the Belgian Army. The regiment afterwards retired swiftly – heavy marching for a week – toYpres, where they entrenched.
Describing the doings on the Ypres road, Drummer Pearson says:– "On the following morning we attempted to call the roll but the German guns again got the range, and we altered our position. We advanced in another direction, and it was in this advance that Col. Uniacke was hit. Major Crauford took over the command of the battalion, but he only held it for a few hours when be was wounded too. Capt. Stansfeld, the Adjutant, who is a Forfarshire man, then took charge, and I must say I never saw a braver man. He walked about the trenches and in the open quite unconcernedly, always with a cigarette or a pipe in his mouth, and how he escaped that day, considering that he is over 6 feet in height, and must have made an excellent target, I don't know. He held the command for a couple of days, and then he was hit in the heel by a bullet, and had to give up the charge of the battalion to Lieut. Hamilton. Lieut. J. H. Fraser had been killed by a sniper on the day Col. Uniacke was wounded; while the Hon. William Fraser, another son of Lord Saltoun, was wounded. Lieut. C. K. Latta, and Second Lieut. Bullock Graham had also been killed, and when the roll was ultimately called the only two officers present were Lieut. Hamilton and Lieut. Sprot, with the Quartermaster, Capt. Mackie. Only a fraction of the regiment remained.
Under Capt. Stansfeld we had the only bayonet charged before I was wounded. The word was passed quietly down to us; then Capt. Stansfeld gave the battalion 'war cry,' a catchword of Capt. Sworder's in Egypt – 'Where are we, boys' – to which we rolled back, in a tremendous shout 'Here we are sir.' 'Then give it to them,' said the Captain, and by gum, we did, for we tumbled them out of their trenches pretty quickly. We were all mad with passion, and the number of Germans who were left dead in the trenches gave us some sort of satisfaction for the good men we had lost. A few days later – on the day I was wounded – we were reinforced by a draft of 90 odd men under a Dundee officer, Second Lieut. Gibb, of the 3rd Black Watch, be must have got a surprise when he saw how few of the battalion was left.
Capt. Stansfeld was mentioned in despatches. Sir J. French published yesterday, as one "whom I recommend for gallant and distinguished service in the field."
26 March 1915
MAJOR STANSFELD. D.S.O.– AGAIN WOUNDED
Major J. R. E. Stansfeld, D.S.O., Gordon Highlanders, who was recently promoted, and mentioned in dispatches, has again been wounded at Neuve Chapelle by a shrapnel bullet in the shoulder, and is in hospital at Warley, Essex. The gallant officer had a narrow escape, as his cigarette case, tobacco tin and blotting pad were riddled with bullets. He is the brother of Mrs. Yorke, of Halton Place near Hellifield.
25 June 1915
Distinctions for Bravery
Captain C. D. Irwin, of the 2nd Battalion Manchester Regiment, was among the list of those mentioned in Sir John French's despatches published on Wednesday for gallantry in the field. He has had the Military Cross conferred upon him. Captain Irwin was stationed a few years ago in Skipton as adjutant to the 6th Duke of Wellington's (West Riding) Regiment.
Major J. R. E. Stansfeld, brother of Mrs. Yorke, of Halton Place, who has been wounded twice, has received the Distinguished Service Order. He is attached to 2nd Battalion Gordon Highlanders.
08 October 1915
STANSFELD – On the 28th instant, in France, from wounds received whilst leading his regiment into action. John Raymond Evelyn Stansfeld, D.S.O., Lieut.-Colonel 2nd Gordon Highlanders, aged 35; son of the late John Birkbeck Evelyn Stansfeld and Mrs. Stansfeld of 32, Knightsbridge, S.W.; nephew of Captain Stansfeld, of Dunninald, Montrose, and Field House, Sowerby Bridge; and beloved husband of Constance Yolande Stansfeld.
08 October 1915
DEATH OF COLONEL J. R. E. STANSFELD
Lieutenant-Colonel John Raymond Evelyn Stansfeld, D.S.O., 2nd Gordon Highlanders, died in France on September 28th from wounds received in action. He was a son of the late Rev. J. B. E. Stansfeld, Knightsbridge, London, and a nephew of Captain Stansfeld, of Field House, Sowerby Bridge, near Halifax, and was 35 years of age. A year ago he returned from Egypt with the 1st Gordon Highlanders and was slightly wounded at Ypres. His rapid promotion from the rank of captain since that time indicates the value of his military qualities. He served through the South African war, was twice mentioned in despatches, and received the D.S.O and medals with eight clasps. In 1904 he married a French lady, Yolande, daughter of the late Major-General Marquess de Bourbel, R.E. Mrs. John Yorke, of Halton Place, Hellifield, is his sister. Lieutenant-Colonel Stansfeld was a man of fine physique.
22 October 1915
THE LATE COL. J. R. E. STANSFELD – MEMORIAL SERVICE AT MONTROSE
On Saturday afternoon last The Primus (The Bishop of Brechin) conducted a memorial service in St. Mary's Church, Montrose, for Lieut.-Col. J.R.E. Stansfeld, D.S.O., commanding second Gordon Highlanders, grandson of the late Rev. John Stansfeld, vicar of Coniston Cold, and cousin of Capt. And Mrs. Stansfeld, of Dunninald Castle, Montrose.
A large congregation attended, the immediate relatives of the deceased officer including Mrs. Evelyn Stansfeld, London (mother); Captain and Mrs. Stansfeld, of Dunninald Castle, Montrose; Mrs. Porter, Wimbledon (aunt); Mrs. Armstrong-Smyth, Dunninald Castle. The widow of the late Colonel and Mrs. J.C. Yorke, (Halton Place), his sister, were unable to be present, the latter owing to illness.
Among the officers of the deceased's regiment present were Captain Sprott, Captain Mackenzie, Captain and Adjutant Alexander, Captain Brooke (retired), Lieutenant Brooke, Lieutenant Gordon, and Second Lieutenant Mitchell. A contingent of the regiment, including a number of the wounded in the rank and file of the 2nd Gordons from Castle Hill and King Street, Aberdeen, were also present.
Other units of His Majesty's service were represented by Lieutenant-Colonel Burke, D.S.O., commanding No. 2 Squadron Royal Fling Corps, and representative officers and non-commissioned officers and men of that service; Colonel Ouchterlony, commanding Dundee Volunteer Corps; Colonel Cathcart, commanding 2nd 1st Highland Cyclist Battalion at Montrose; Major R. Hoyer Millar, commanding the 3rd 5th Black Watch (T.F.); Provost Thomson, representing the community of Montrose, and representatives of the nobility and of all denominations in the town and district.
There was a choral celebration of the Holy Communion conducted by the Primus, who was assisted by the Rev. J. Hampson Shepherd, assistant curate, St. Mary's. The hymns included 'Onward, Christian Soldiers,' 'Come, Holy Ghost, our souls inspire,' and 'For all the Saints,' while Mr. James Burgess rendered the tenor solo in the Benedictus, 'Blessed is He that cometh,' to organ accompaniment.
The Primus, in the course of a brief address, said that they had met to remember the life and character of a very brave and distinguished soldier and of a very true-hearted man, and they had come to commend his soul to the gracious keeping of Almighty God, their Heavenly Father. He did not think that Colonel Stansfeld would have wished or have cared for anything like a panegyric or eulogy of that kind. One could not know him without being profoundly impressed with the greatness or his soul and with the loveableness of his nature. It was not only the magnificent physique that impressed one; it was the spirit behind. He had never read anything more touchingly beautiful than the letter written by his servant describing the way in which he met his death. But they could not be present there that day without also feeling that they desired to remember those gallant ones in that congregation who had laid down their lives for their King and Country, and they would not forget two officers of the Royal Flying Corps who only that week had met their deaths in so sudden and tragic a way. He had often thought that in these terrible days death was losing much of its sting and bitterness for them. They thought of the great hosts of gallant lads going out into the unseen so bravely and so calmly.
The service concluded with the playing on the organ and by the orchestra of Chopin's Funeral March, the singing of the National Anthem, and the sounding of 'The Last Post' by the cornets.
View West Yorkshire Pioneer Articles

08 October 1918
MRS. YORKE OF HELLIFIELD LOSES HER BROTHER
Lieut. Colonel John Raymond Stansfeld, D.S.O., whose sister is Mrs. John Yorke, of Halton Place, Hellifield, died in France on September 28th from wounds received while leading the 2nd Gordon Highlanders into action. Colonel Stansfeld was a son of the late Rev. John Birkbeck Evelyn Stansfield [sic] and Mrs. Stansfeld of 32 Knightsbridge, London. He was a nephew of Captain Stansfeld, of Field House, Sowerby Bridge, and was aged 35. Entering the Army in 1899, he served with distinction in the South African War, being mentioned in despatches and receiving the D.S.O., and medals with eight clasps. He married in 1903 Yolande, daughter of the late Major General Marquers de Bourbel, R.E.
Comment on this Soldier Record
You can leave comments on this soldier record. Please note all comments will be manually approved before they appear on the website.