Main CPGW Record
Surname: RILEY
Forename(s): Norman
Place of Birth: Sutton-in-Craven, Yorkshire
Service No: 13285
Rank: L/Corporal
Regiment / Corps / Service: Duke of Wellington's (West Riding Regiment)
Battalion / Unit: 'D' Coy 9th (Service) Battalion
Division: 17th (Northern) Division
Age: 23
Date of Death: 1915-12-21
Awards: ---
CWGC Grave / Memorial Reference: VIII. C. 72.
CWGC Cemetery: BOULOGNE EASTERN CEMETERY
CWGC Memorial: ---
Non-CWGC Burial: ---
Local War Memorial: SUTTON-IN-CRAVEN, YORKSHIRE
Additional Information:
Norman Riley was the son of Walter Harry and Elizabeth Riley, née Longbottom. Walter was born at Glusburn and Elizabeth at Silsden, Yorkshire. Norman was the brother-in-law of L/Corporal Willie Hargreaves (265696) (q.v.).
1901 Sutton-in-Craven, Yorkshire Census: 33, Main Street - Norman Riley, aged 8 years, born Sutton, son of Walter H. and Elizabeth Riley.
1911 Sutton-in-Craven, Yorkshire Census: 14, Walton Street - Norman Rily [sic] Brook, aged 18 years, born Sutton Mill, son of Elizabeth Rily (sic) Brook, widow. [When Walter and Elizabeth married in 1892 Walter gave his name as Walter Harry Brook - his mother, Albina Brook, had married Thomas Riley in 1869.]
British Army WW1 Medal Rolls Index Cards: L/Cpl Norman Riley, 13285, West Riding Regiment. Theatre of War first served in: 1 - France. Date of entry therein: 15 July 1915.
Data Source: Craven's Part in the Great War - original CPGW book entry
View Entry in CPGW Book
Entry in West Yorkshire Pioneer Illustrated War Record:
RILEY, Lance Corporal Norman, aged 23, son of Mrs. Walter H. Riley, Walton Street, Sutton, died from wounds, France, Dec. 21, 1915.
---
Click the thumbnail below to view a larger image.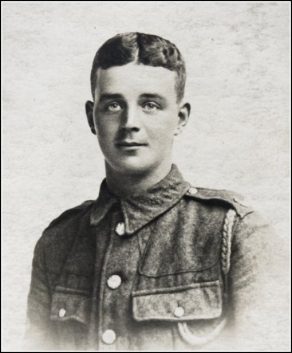 L/Corporal Norman RILEY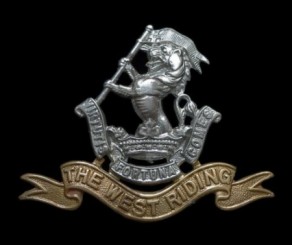 Regiment / Corps / Service Badge: Duke of Wellington's (West Riding Regiment)

Divisional Sign / Service Insignia: 17th (Northern) Division
Soldiers Died Data for Soldier Records
Surname: RILEY
Forename(s): Norman
Born: Sutton-in-Craven, Yorks
Residence: Sutton-in-Craven
Enlisted: Keighley, Yorks
Number: 13285
Rank: L/Cpl
Regiment: Duke of Wellington's (West Riding Regiment)
Battalion: 9th Battalion
Decorations:
Died Date: 21/02/15 [sic]
Died How: Died of wounds
Theatre of War: France & Flanders
Notes:
CWGC Data for Soldier Records
Surname: RILEY
Forename(s): N
Country of Service: United Kingdom
Service Number: 9/13285
Rank: Lance Corporal
Regiment: Duke of Wellington's (West Riding Regiment)
Unit: 9th Bn.
Age: 23
Awards:
Died Date: 21/12/1915
Additional Information: Son of Walter and Elizabeth Riley, of 14, Walton St., Holmefield, Sutton-in-Craven, Keighley. Enlisted Sept., 1914. (CWGC Headstone Personal Inscription: SON OF W.H. & E. RILEY SUTTON-IN-CRAVEN YORKSHIRE, ENGLAND)
---
Additional Photo(s) For Soldier Records
View Craven Herald Articles

07 January 1916
SUTTON SOLDIER DIES FROM WOUNDS
On Friday morning last week, Mrs. Walter H. Riley, 14 Walton Street, Sutton-in-Craven, received the sad news from the Infantry Records Office, York, that her son, Lance-Corp. Norman Riley of the 9th Duke of Wellington's, passed away at 12.10 p.m. at the 13th General Hospital, Boulogne, on December 2lst, 1915, as the result of gunshot wounds in the head. Accompanying the intelligence was a printed note expressing the sympathy of the King and Queen in their great sorrow.
Lance-Corp Riley joined the colours in September, 1914, and was in training at Bovington Camp, Dorset, until July, 1915, when he went to the Front. After a few months in France he came home on leave for a few days. Prior to enlistment, Lance-Corp. Riley was employed by Messrs. S. Thompson & Son, coal- merchants, and was of a very cheery and sociable disposition, and was twenty-three years of age. He is survived by a widowed mother, two sisters, and one brother, to whom the sympathy of the whole district is tendered.
14 January 1916
SUTTON SOLDIER'S DEATH – OFFICER'S APPRECIATION
Mrs. Walter H. Riley received the following letter on Sunday last respecting the death of her son, Lance Corporal Norman Riley, who died from wounds in the head received on the 19th December, as reported in our last week's issue.
'D' Company 9th Duke of Wellington's, January 5th 1916
''Dear Mrs. Riley, – It was with the greatest regret for the Company's sake, and sorrow for yours, that I heard today that your son, Norman, died in hospital from wounds received on the 19th. He did his duty well that day as always, and after he was hit in the head walked down to Brigade Headquarters where I saw him. I spoke to him there and praised him for his good work, and he asked for water which I gave him from my bottle. I was afraid he was badly hit, and he was taken away in the ambulance soon afterwards. He was a fine, willing, cheerful lad, and I sent his name in as full corporal only the day before he was killed. I also recommended him to go into transport work, which he was very keen about, and the transport officer had promised to take him. I fear nothing will comfort you much, but the knowledge that he always did his work well and was much liked and respected throughout the Company may be some help to you. Had he lived he might have been mentioned in dispatches, and was certain to have got further promotion.
''With very true sympathy, I am, yours sincerely, Malcolm Robertson, (Captain)."
13 October 1916
SUTTON – THE ROLL OF HONOUR
Writing in the Parish Magazine on the war, the Vicar of Sutton (Rev. A.R. Light) gives a list of men from the Parish of Sutton, who have fallen in defence of their country as follows:–Arnold Healey, Walter Haggas, Lyall Taylor, Edmund Wilkinson, Norman Riley, Nelson W. Petty, Richard Whitehall, Albert Wm. Tune, Frederick W. Thompson, Henry Taylor, Joseph G. Bancroft, Cedric Fawcett Horsfall.
Mr. Light also says: "I have not in the Magazine mentioned by name those from this place who have given their lives for their country, not because I have forgotten such promising young men as Henry Taylor, and others whose names hang in the Church porch, and, indeed, as I write this, I fear lest it may even be dimly thought that one may seem to be valued more than another. All who are fighting are equally dear to God, and it is also true to say that both rich and poor are giving their best, offering on an altar watered with tears those whose lives are so much to them. All those boys who formed our first patrol of Scouts have almost gone to the front, and only last week we heard of Reginald Ellison being wounded, but we hope his life will yet be spared.
To every mother whose heart aches with anxiety or for actual loss, I offer most true sympathy, whether such are connected with us in the worship of Sutton Church or not, and one cannot help feeling in such times as these that religious differences are not, and cannot be again, as great and as dividing as they have seemed in the past, and that all are one family of God. May each one of these, who will never enter into our lives here again, rest in peace."
06 July 1917
SUTTON-IN-CRAVEN – ANOTHER SOLDIER KILLED: Corporal Willie Hargreaves
On Saturday evening Mrs. Willie Hargreaves, of Holmfield, Sutton-in-Craven, received an intimation from Captain T.S. Holland, of the West Riding Regiment, informing her that her husband, Lance Corporal Willie Hargreaves, had been killed in action "Somewhere in France". The letter, which is dated 26th May 1917, is as follows:–
"Dear Mrs. Hargreaves, – I am truly sorry to have to inform you of the death of your husband. He was killed instantaneously by a shell in the front line on the night of the 24th. He was a most efficient N.C.O. and had become very popular both with his officers, brother N.C.O.s and men, and I know I am speaking for all when I say that his loss will be most deeply regretted by all with whom he came in contact. He always carried out his duties in a most satisfactory manner, and I have lost a very valuable N.C.O., and his men have lost a true comrade, and I cannot express my sympathy as I should like to do, but I hope it will be some consolation for you to know that he died in the execution of his duty like the true soldier he was. He was buried this morning in a well-kept British Cemetery well behind the line, and the service was read over by an Army Chaplain. I hope you will excuse me from writing more, as I am unable to put into words my feelings. Hoping you will bear up bravely under this cruel loss, and assuring you of my deepest sympathy. I remain, yours very truly, (signed) T. S. HOLLAND, Captain O/C, B Company, West Riding Regiment."
Lance Corporal Hargreaves joined the West Riding Regiment a month after the outbreak of war, and had been out in France for over two years. At the time of enlistment he was employed by Messrs. T. and M. Bairstow, Sutton Mills. He only had one leave all the time he was in France. He was home on leave at the beginning of last October, and during the time he was home he was quietly married to Miss Doris Riley, of Holmfield. Lance Corporal Hargreaves was of a quiet, unassuming disposition, and as manly a fellow as it was possible to imagine, and his loss is very keenly felt in the two villages. He was known by everyone, and loved by all with whom he came in contact. At the time of his death he was a Lewis gunner. His younger brother, Private Allan Hargreaves, is with the Royal Field Artillery in France.
Private Arnold Leach, also of Holmfield, a pal of Lance Corporal Hargreaves, arrived home on Saturday night on leave from the Front, and he stated that he and several other comrades buried him behind the lines. Private Leach says the Company had been in the trenches two days over the time when his chum was killed. Just before he was killed a big German shell came whizzing past Lance Corporal Hargreaves, who was engaged cleaning his gun, but he never moved, and went on with his work as if nothing had happened. He was cleaning his gun at the time of his death. He had written home regularly and letters were received from him during last week, and the news of his death came as a great shock to his relatives. All the time he has been out he had never once complained, and Private Leach says if his chum had not been killed he would shortly have received his second stripe.
Lance Corporal Hargreaves was an old Sunday School scholar of the Sutton Baptist Sunday School. This is the second loss his widow has sustained. Her brother, Lance Corporal Norman Riley, died of gunshot wounds in the head in December 1915. Lance Corporal Riley had his name sent in for promotion the day he was killed, and his officer at the time of his death wrote home to his parents and said that if he had lived he would probably have been mentioned in despatches for beating off a German bombing attack with his fifteen platoon bombers.
View West Yorkshire Pioneer Articles

13 August 1915
SUTTON MAN'S LETTERS FROM THE FRONT
Lance-Corporal Norman Riley, of the 9th Duke of Wellington's West Riding Regiment, who left England for France on July 14th, in writing home to his mother, Mrs. Walter H. Riley, of Walton Street, Holm Bridge, says:–
"Where I am I cannot tell you, but I can say that the Germans have been here, and have left their trademark in more than one place. We could get to know more if we could speak French, but we do fairly well. The French people can speak English better than we can speak French. I suppose that is because so many of our chaps have been about; you cannot go far without seeing somebody in khaki." In another he says:– "I am thinking about you all at home; just about a year ago I may have been going to the Crosshills pictures. To-night, about the same time (9 o'clock), I was going into the trenches. Well, we got there all right about 10 minutes to 12 o'clock, and I fired my first shot at the Germans about midnight. We were only about 80 yards from the German lines…The chaps that were in the trenches when we got there had been in fourteen days. They were splendid chaps–most of them had been out all the time, and told us lots of tales about engagements they had been in, such as the Battle of Mons, etc. There are only 200 left out of 1,100. They are the Royal Scots Fusiliers, and I handed my 'cigs.' round that you sent me. I had not many left when we came out the following night, but I did not mind so long as they were happy. They showed us the best way to make a good meal out of next to nothing, for which we were very thankful!
"I have seen some of the 6th Duke of Wellington's who are only about two miles away, but I have not seen any lads from Sutton. They are in the trenches, but are coming out to-night, and I am hoping to see them, all being well."
Later Lance-Corporal Riley tells how for over two hours they could not hear themselves speak because of the heavy bombardment of the German positions.
07 January 1916
DEATH OF LANCE-CORPL. NORMAN RILEY
On Friday last Mrs. W. Harry Riley of Walton Street, Holme Bridge, Sutton, received official intimation from the Record Office, York, that her son, Lance Corporal Norman Riley, had died from wounds received on the 19th of November, his death taking place on the 21st in the hospital at Boulogne.
Lance Corporal Norman Riley was the eldest son of his widowed mother. He joined the 9th Duke of Wellington's at the outbreak of the war. He was trained at Bovington Camp, and last winter was billeted at Wimbourne, leaving for France in July last. The deceased, who was in his 24th year, made many friends while in camp. He spent a short but happy week at home nine weeks' ago, and although he acknowledged that the life at the Front was a very hard one, and not one that appealed to him naturally, yet he felt it is duty to be there, and he went back with his usual cheerfulness. In his last letter home he said he was looking forward to a good time at Christmas (which he never saw). He remarked that as they came out of the trenches last Friday the German shells were dropping about them, but no one was hit. He also referred to parcels they had received and the good things which might make them poorly, but he added, "I am going to risk it." He also referred with pride to one of the local lads winning the D.C.M., and in his jocular spirit said, "I shall go in for the V.C." Much sympathy is felt for the widowed mother, who has always found her son "a good lad for home". Lance Corporal Riley was a very popular young man at the entertainments given at St. Thomas's Church. On Sunday last the organist at St. Thomas's Church , in memory of the deceased soldier, played the Dead March in 'Saul'. The deceased is the fifth young man from Sutton who has made the 'supreme sacrifice'.
13 October 1916
SUTTON
KHAKI WEDDING – On Tuesday afternoon a pretty wedding was solemnised at St. Thomas's Church. The officiating clergyman was Rev. A.R. Light. The parties were Lance Corporal William Hargreaves, of the 'Dukes', second son of Mr. and Mrs. James Hargreaves, of Crag View, Sutton, and Miss Doris Riley, elder daughter of the late Mr. Walter H. Riley of Holme Bridge. The bride, who was given away by her uncle, Mr. Richard William Riley, sub-postmaster, Sutton, was attended by Miss Marion Riley, her sister, and Miss Edith Hargreaves, sister of the bridegroom. Mr. Norman Hargreaves, eldest brother, acted as best man. The bridegroom is home on furlough from the Front for the first time after 18 months' active service, having been in the midst of some of the heaviest fighting since the beginning of the great push in July. His younger brother, Private Allan Hargreaves, is in the R.F.A. in training. A shadow was cast over the proceedings owing to the absence of Private Norman Riley, elder brother of the bride, who was killed in action in December last.
10 November 1916
SUTTON – MEMORIAL SERVICE AND CHURCH PARADE
On Sunday morning a memorial service to those who had fallen during the war from Sutton parish was held in St. Thomas's Church, conducted by Rev. A.R. Light (vicar). About 60 members of the local Volunteer Corps were present, having met in the Friendly Societies' Hall yard, under the leadership of Commander Clough. Special lessons were read and special psalms were sung. 'O rest in the Lord' was given on the organ by Mr. A.E. Foulds. The Vicar asked the congregation to offer prayers for the souls of those who had fallen. The following names were read out:– Privates Arnold Healey, F.W. Thompson, Walter Haggas, J.G. Bancroft, Evelyn Fisher, Tom Summerskill, Norman Riley, Henry Taylor, Lyall Taylor, R. Whitehall, E. Wilkinson, A.W. Tune, Lieut. Nelson Petty, and Capt. C.F. Horsfall.
The text from which the very sympathetic discourse was preached was 2nd Samuel, 1., 26, David's lamentation over the death of his friend Jonathan. At the close of the very impressive service Chopin's 'Funeral March' was given on the organ. At the close of the evening service, which was again conducted by the Vicar, the 'Dead March' in 'Saul' was played, and the National Anthem sung.
03 August 1917
SUTTON
DEDICATION OF ROLL OF HONOUR – A special service, reverent and very beautiful throughout, the dedication of the roll of honour, was conducted in St. Thomas's Church on Sunday evening last by the vicar, Rev. A. R. Light. The roll of honour is a triptych, the top panel, a beautiful inlet picture representing 'The Great Sacrifice.' It contains the names of the fallen heroes, viz., Arnold Healey, F.W. Thompson, Norman Riley, Lyall Taylor, J.G. Bancroft, E. Wilkinson, Nelson Petty, W. Haggas, G. Sanderson, R. Whitehall, W. Hargreaves, T. Summerskill, A.W. Tune, C.F. Horsfall, Lewis Binns,Albert Binns, E. Fisher, and W. Blake Spencer. The left panel represents 'The White Comrade,' and the right 'The watch on many waters,' in very artistic colours. The large centre space contains the names of all who were residents in the Sutton parish and are still serving their King and country. The sermon was from the text, "Through God we shall do valiantly." The large congregation left the church to the strains of the French National Anthem.
Comment on this Soldier Record
You can leave comments on this soldier record. Please note all comments will be manually approved before they appear on the website.