Main CPGW Record
Surname: BERESFORD
Forename(s): Peter Fred
Place of Birth: Hubberholme, Yorkshire
Service No: C/12960
Rank: L/Corporal
Regiment / Corps / Service: King's Royal Rifle Corps
Battalion / Unit: 21st (Service) Battalion. (Yeoman Rifles)
Division: 41st Division
Age: 21
Date of Death: 1918-03-30
Awards: ---
CWGC Grave / Memorial Reference: A. 2.
CWGC Cemetery: ST. HILAIRE CEMETERY EXTENSION, FREVENT
CWGC Memorial: ---
Non-CWGC Burial: ---
Local War Memorial: KETTLEWELL, YORKSHIRE
Additional Information:
Peter Fred Beresford was the son of George and Jane Beresford, née Metcalfe. George was born at Countersett and Jane at Starbotton, Yorkshire. George died in 1905 and Jane married Allan Beresford in 1914.
1901 Deepdale [near Yockenthwaite], Yorkshire Census: Cowside - Peter Fred Beresford, aged 4 years, born Cowside, Buckden, Yorkshire, son of George and Jane Beresford.
1911 Deepdale [near Yockenthwaite], Yorkshire Census: New House - Peter Beresford, aged 14 years, born Buckden, Yorkshire. [Peter was living with his uncle and aunt - Robert and Dorothy Beresford who were brother and sister.]
The British Army Service Record for Peter Fred Beresford exists but may be incomplete.
Peter Fred Beresford attested on 29 November 1915. He was mobilised on 13 December 1915 and posted to the 21st (Service) Battalion King's Royal Rifle Corps (Yeoman Rifles), 41st Division, on the 3 January 1916. He served with this battalion until it was disbanded in France on 16 March 1918 on its return from Italy. He was then attached to the 41st Machine Gun Battalion, 41st Division, and served with them for a few days before being mortally wounded.
Peter's nephew, Private Ernest Francis Beresford, 2824324, 2nd Bn Seaforth Highlanders, lost his life in the Second World War. He was killed in action on 2 November 1942.
A short biography of Peter is included in: 'Swaledale & Wharfedale Remembered - Aspects of Dales' life through peace and war' by Keith Taylor (2006).
Data Source: Craven's Part in the Great War - original CPGW book entry
View Entry in CPGW Book
Entry in West Yorkshire Pioneer Illustrated War Record:
BERESFORD, Lance Corporal Peter Fred, [Starbotton], aged 21, died of wounds.
---
Click the thumbnail below to view a larger image.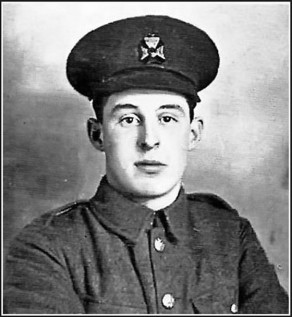 L/Corporal Peter Fred BERESFORD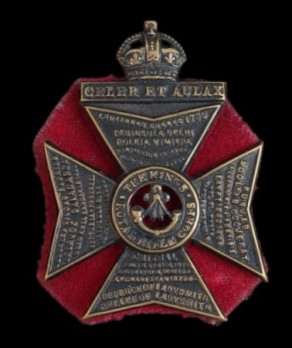 Regiment / Corps / Service Badge: King's Royal Rifle Corps

Divisional Sign / Service Insignia: 41st Division
---
Comment on this Soldier Record
You can leave comments on this soldier record. Please note all comments will be manually approved before they appear on the website.