Main CPGW Record
Surname: STEWART
Forename(s): Robert
Place of Birth: Whalley, Lancashire
Service No: 8899
Rank: Sergeant
Regiment / Corps / Service: Manchester Regiment
Battalion / Unit: 17th (Service) Battalion. (2nd City)
Division: 30th Division
Age: ---
Date of Death: 1918-01-08
Awards: ---
CWGC Grave / Memorial Reference: ---
CWGC Cemetery: WADDINGTON (ST. HELEN) CHURCHYARD
CWGC Memorial: ---
Non-CWGC Burial: ---
Local War Memorial: WADDINGTON, YORKSHIRE
Additional Information:
Robert Stewart was the son of Robert and Jane Stewart, née Fielding. Robert senior was born at Adlington and Jane at Accrington, Lancashire.
1891 Whalley, Lancashire Census: The Sands - Robert Stewart, aged 5 months, born Whalley, son of Robert and Jane Stewart.
1901 Waddington, Yorkshire Census: Higher Buck - Robert Stewart, aged 10 years, born Whalley, Lancashire, son of Jane Stewart, widow.
1911 Waddington, Yorkshire Census: Higher Buck Hotel - Robert Stewart, aged 20 years, born Whalley, Lancashire, son of Jane Stewart, widow.
British Army WW1 Medal Rolls Index Cards: Acting Warrant Officer Class II Robert Stewart, 8899, 17th Bn Manchester Regiment. Theatre of War first served in: (1) France. Date of entry therein: 8 November 1915.
The informal title of the 17th (Service) Bn Manchester Regiment (2nd City) was the 2nd Manchester Pals.
Photograph: 'Clitheroe Advertiser' (11 January 1918).
Data Source: Local War Memorial
---
Entry in West Yorkshire Pioneer Illustrated War Record: ---
---
Click the thumbnail below to view a larger image.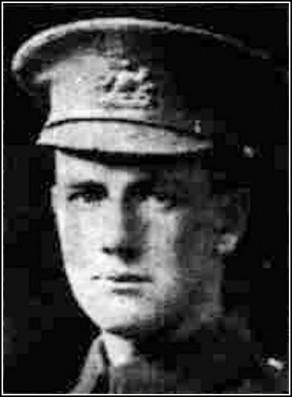 Sergeant Robert STEWART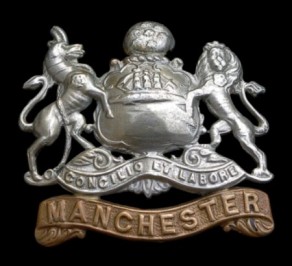 Regiment / Corps / Service Badge: Manchester Regiment

Divisional Sign / Service Insignia: 30th Division
Soldiers Died Data for Soldier Records
Surname: STEWART
Forename(s): Robert
Born: Whalley, Manchester
Residence: Waddington, Clitheroe
Enlisted: Manchester
Number: 8899
Rank: Sergt
Regiment: Manchester Regiment
Battalion: 17th Battalion
Decorations:
Died Date: 08/01/18
Died How: Died of wounds
Theatre of War: France & Flanders [sic]
Notes:
CWGC Data for Soldier Records
Surname: STEWART
Forename(s): R
Country of Service: United Kingdom
Service Number: 8899
Rank: Serjeant
Regiment: Manchester Regiment
Unit: 17th Bn.
Age:
Awards:
Died Date: 08/01/1918
Additional Information:
View Additional Text For Soldier Records
'Clitheroe Times' (18 February 1916)
(Kindly supplied by Shirley Penman of Clitheroe and Dorothy Falshaw of Gisburn)
VARYING BILLETS
FINISHING TOUCHES ON TRAINING IN FRANCE
The following letter from Private Robert Stewart, a well-known Waddington soldier, appears in the Waddington Parish magazine:–
"I received last night the parcel forwarded by Mrs. N. Garnett, on behalf of the Congregation of our Church. I can assure you the contents are much appreciated and I thank you all for your kindness. As we are going into the trenches this week I am taking the tinned foods with me; they will be very useful there.
"Since coming out here we have marched about the country a good deal, being billeted in a village for several days and then on again to another village. After three weeks of this we reached our permanent billets last Sunday. The word 'billet' is very misleading. When one thinks of billets one naturally pictures the cosy seaside houses where a great many fellows were fortunate enough to be stationed last winter. Out here the billets are very different. They consist of tumbledown old houses, stables, barns, etc., the walls and roofs of which are seldom whole. I have slept in some strange places during the last month, but my present – and I believe permanent – billet is fortunately the best of the lot. A dozen of us are living in a barn, which has rather too much ventilation, but a sound roof. The latter is most important of all. We have sufficient straw on the floor to make a decent bed and have made ourselves very comfortable. Outside there is a well and we are therefore able to get a decent wash. Previous to arriving in this village we have usually had to wash in a pint of water taken from our bottles.
"The weather has been very cold – at least up to last Monday. I believe it has been the same in England. Last Monday the frost disappeared and since then it has been very mild and wet. It has been the easiest week I have had since joining the Army fifteen months ago. After each period in the trenches I understand we return here for a rest.
"This morning we had our usual Church Parade. As this will be our last Sunday before going to the trenches the Chaplain held a special Communion service in the village schoolroom, after the ordinary service, which was, of course, held in the open air. The Communion service was voluntary and there were about 100 men present – very good considering that many were on duty.
"So far I much prefer this life to camp life in England as it is not so monotonous. We had a long tedious training and we are all eager to prove that the training wasn't wasted. The health of our Battalion is good. I myself feel fitter than I ever did in my life before.
"P.S. – Whilst I am writing our machine Gunners are busy putting in their final practice on a range close to the village."
'Clitheroe Times' (11 August 1916)
(Kindly supplied by Shirley Penman of Clitheroe and Dorothy Falshaw of Gisburn)
THE PUSH DESCRIBED
WADDINGTON SOLDIER'S THRILLING NARRATIVE
THE GERMANS CANNOT LAST MUCH LONGER
The following letters, describing to some extent the Big Push, appear in the Waddington Magazine, from Corporal Robert Stewart, a very well-known Waddingtonian:–
Tuesday Afternoon, July 4th, 1916.
"I have come safely through a tremendous battle and we are now resting four miles behind the line, we are encamped in the open air but luckily it has been fine so far. I sent you a field P.C. immediately after we came out, I also sent you a letter last Friday, but I did not tell you then about the fight which was about to take place, although we knew of it three weeks before. We are not allowed to give full particulars, but when you hear the full story, you will be proud that I was in a battalion that played a leading role, particularly as I have come through. We attacked on that part of the line where we have been so long. We moved up to the trenches on Friday night, and attacked in broad daylight and under a broiling sun at 8 o'clock on Saturday morning. Our division had to capture the first, second and third lines of the German trenches, a redoubt and a village, which was 1¼ miles to the rear. The village was a German stronghold, and the key to the whole thing. Our Brigade was allotted the difficult task of capturing this village and sticking there at all costs. If we failed the whole attack failed. It was a fine sight to see our lads go over in correct formation, although there was a murderous enfilade fire to contend with, and men were falling on all sides. Leading staff officers who witnessed it say that the sight of the lads going over, just as if they were on the parade ground, was the finest thing they ever saw, they put the Germans to flight and took the place in much less time than the Generals expected. Our Brigade alone took 1,100 prisoners. Each man carried a pick or spade on his back, in addition to many other things, including sandbags, bombs, etc., and immediately we started digging ourselves in on the outskirts of the village. We managed to get this done, and early on Sunday morning a counter attack was repulsed with heavy loss to the enemy. I wont attempt to describe what happened on Sunday. In short we were shelled unmercifully and many of my mates fell, how anyone came through is a miracle. Of course, the Germans got it quite as bad. I ought to have said that prior to the attack the village was just about blown to nothing, but almost every inch was churned up again on Sunday. It was absolutely an inferno, men were blown up, buried in the trenches, and goodness knows what. Of course, we had no dugouts. Sunday night and early Monday Morning seem to me on looking back a terrible nightmare. We were digging each other out, extricating wounded, etc., all the time. At 6 o'clock Monday morning we were relieved and goodness knows we needed it, as we had had no sleep for three days. Had we stayed much longer there would not have been one of us left whole. We are now encamped in the open air four miles behind the line. The roll call yesterday morning was heartbreaking. I am not allowed to state the number of casualties, but I leave you to judge for yourself. Men who were at Loos say that battle wasn't in it. I forgot to say we suffered greatly from thirst. We were too excited to be hungry. The Accrington lads were again fortunate only one being hit; he was wounded in the arm: his name is Yates. Two were in hospital at the time of the attack and two were far behind with the transport. Frank was not in it either, being left behind at the last moment with the reserve brigade machine gunners. Eight Accrington lads including myself were in the fight. Poor Sergeant Marsden was killed early on, in fact goodness knows who wasn't killed or wounded. We carried nothing in our kit (no personal belongings) just munitions, oilsheet and iron rations, our overcoats and such like being left behind. Shortly before being relieved, all my equipment was burnt to a cinder, a shell having set it on fire. Well this is a very poor and insufficient account of such a big affair. I could write a book on it if I chose, but it is a painful matter to write about, and it has been hard telling you what I have done. However, I have told you what I know you will think most important of all i.e., that I have come through all right. I believe we are going back to recuperate, and they say we are not likely to be in it again for six weeks at anyrate. Lord Derby sent a splendid telegram congratulating us, and General Rawlinson, the 4th Army Commander, has done the same. Our own General addressed us and specially praised the 16th and 17th Battalions as we bore the brunt of the attack on the village and held, the 18th and the Jocks being our reserves. He said the Manchester regiment in its long history had won many honours but this would be the finest victory it had ever achieved. They say the battle is likely to take its name from the village we captured."
Saturday Noon, July 8th, 1916.
"The fighting continues, but we are not likely to be in it again just yet. We have had a pretty easy time this week, only doing an hour or two's drill per day. As the weather broke down early in the week we were moved into old artillery dug-outs and gun-pits about half a mile from where we had been encamped in the open. This was rendered necessary as many of us had lost our oilsheets. I am at present living in an old gun-pit and it isn't a bad billet. The guns from here have moved up a distance corresponding with the distance we drove the Germans back. Last Saturday at this time we had captured the village and were preparing for the counter attack: I much prefer to be here. I forgot to tell you in my last letter that I got no souvenirs, although they only needed picking up. German helmets, belts, watches, etc., there were in abundance and many lads got them but they didn't attract me. I'm the souvenir. One or two lads even got iron crosses. My name appeared in Battalion Orders on Wednesday night, as full corporal, the promotion dating from last Sunday, the second day of the battle. As it has been given me on active service and particularly at a time like this I appreciate it very much. It is a double jump as I was unpaid lance-corporal before and there were paid lance-corporals before me, but out here seniority doesn't count. I now receive 8d. per day additional pay."
Wednesday Noon, July 12th, 1916.
"It is four days since I wrote the previous part of this letter; I was unable to post it on Saturday. On Saturday at noon we were moved up to the line again at a moment's notice and very much to our surprise our battalion was ordered over the top to attack a wood to the right of the village we captured the previous week-end. We went over at 7-30 on Sunday morning and took the wood. Our Battalion stuck there till 3-0 p.m. when another lot took over from us and we went into the support trench – those few of us who were left. We had a terrible time – worse than the previous week-end. I really can't write about it. Poor Frank Rigby met a terrible death, but was brave to the end. I wasn't with him at the time. I had left him a short time before to have my shoulder dressed. I was hit by a shell splinter and the force of it brought me to my knees. My tunic was ripped but I was fortunate enough to escape with a scar and badly bruised shoulder. It is nothing to speak of. I am carrying on as usual. We were relieved on Tuesday morning and are now several miles from the line in the wood where I met the Battalion when I returned from leave. I think we go further back to-morrow. We have had a terrible knocking about and are not likely to see any more fighting for a bit. If you remember I told you in a letter a week or two ago that Frank Rigby, another lad and myself had chips together at a house in ------. Whilst we were having them arranged to have a right do after the battle. I am the only survivor, the other two having been killed. I think the Germans cannot last much longer. They have gone down in my estimation – as fighters I mean. They wont stand up for hand to hand fighting, but immediately our lads get near them up go their hands and they cry 'Mercy kamerade.' Their artillery is awful, but so is ours. Ours is even more murderous than their's and they are beaten at their own game."
'Clitheroe Advertiser' (27 April 1917)
(Kindly supplied by Shirley Penman of Clitheroe and Dorothy Falshaw of Gisburn)
[Untitled article]
Sergeant Robert Stewart (son of Mrs Stewart of the White Lion Hotel) who joined the 17th Manchesters and has been to some of the heaviest fighting, has been given the rank of sergeant major.
'Clitheroe Advertiser' (11 May 1917)
(Kindly supplied by Shirley Penman of Clitheroe and Dorothy Falshaw of Gisburn)
[Untitled article]
Sergeant-Major R. Stewart, (son of Mrs. Stewart, White Lion Hotel), is at the 2nd Canadian Hospital in France, very severely wounded in the neck, both legs and right knee. He laid where he fell for 40 hours before being picked up.
'Clitheroe Advertiser' (11 January 1918)
(Kindly supplied by Shirley Penman of Clitheroe and Dorothy Falshaw of Gisburn)
CO. SERGT.-MAJOR R. STEWART
Death at Queen Mary Hospital from wounds
Mrs. Stewart, formerly of the Higher Buck Hotel, Waddington, and late of the White Lion, Clitheroe, mourns the death of her only son, Robert, a Company Sergeant-Major of the 17th Manchester Regiment, who died at the Queen Mary Hospital, Whalley, on Tuesday afternoon, at the age of 27. He enlisted immediately after the war broke out, in August, 1914, being then in the service of Messrs. Howard and Bullough, Ltd., Accrington. During the 18 months he served in France he participated in much heavy fighting, including the battle of the Somme, and was badly wounded about the legs at Arras, on April 23rd last. He has undergone numerous operations at Whalley, but, unhappily, septic poisoning supervened, and Mrs. Stewart was summoned to her son's bedside, on Monday, remaining the night with him. His death is a heavy blow to his family and many friends. We tender sincere sympathy to Mrs. Stewart and her daughters, and to Miss Maden (Accrington) deceased's fiancée.
'Clitheroe Advertiser' (11 January 1918)
(Kindly supplied by Shirley Penman of Clitheroe and Dorothy Falshaw of Gisburn)
FALLEN IN THE FIGHT
STEWART – On January 8th, at the Queen Mary Military Hospital, Whalley, Company Sergeant-Major Robert Stewart, 17th Manchester Regt., the dearly loved and only son of the late Robert and of Mrs. Stewart, of Waddington, who died of wounds received in France.
'Accrington Observer and Times' (12 January 1918)
(Kindly supplied by Shirley Penman of Clitheroe and Dorothy Falshaw of Gisburn)
FUNERAL OF COMPANY SERGT.-MAJOR STEWART
The interment took place at Waddington yesterday of the remains of Company Sergt.-Major Stewart, whose death took place in Whalley Hospital on Tuesday at the age of 27 years. Deceased belonged to an Accrington family and was well known in the town. His mother was formerly hostess of the Higher Buck Hotel, Waddington, and afterwards of the White Lion Hotel, Clitheroe. Prior to joining the forces deceased was on the clerical staff at Messrs. Howard and Bullough's works. He was one of about twenty young men from the district who showed their patriotism and love of country by enlisting in the 17th Manchesters directly after the war broke out in August, 1914, and had seen a great deal of active fighting. Wounded in the battle of Vimy Ridge on April 23rd last, he was for several months in hospital at Clacton-on-Sea, Essex, and was removed to Whalley in November. The funeral yesterday was of a military character, and attracted considerable attention.
England & Wales, National Probate Calendar (Index of Wills and Administrations), 1858-1966
1918
STEWART Robert of West View Waddington Yorkshire sergeant-major 17th Manchester regiment died 8 January 1918 at Queen Mary's Military Hospital Whalley Lancashire Administration London 11 April to Jane Stewart widow. Effects £294 2s. 11d.
---
---
Comment on this Soldier Record
You can leave comments on this soldier record. Please note all comments will be manually approved before they appear on the website.