Main CPGW Record
Surname: SHELLABEAR
Forename(s): Thomas
Place of Birth: Barnoldswick, Yorkshire
Service No: 10206
Rank: Private
Regiment / Corps / Service: Duke of Wellington's (West Riding Regiment)
Battalion / Unit: 'D' Coy 2nd Battalion
Division: 5th Division
Age: 20
Date of Death: 1914-08-24
Awards: ---
CWGC Grave / Memorial Reference: II. D. 8.
CWGC Cemetery: HAUTRAGE MILITARY CEMETERY
CWGC Memorial: ---
Non-CWGC Burial: ---
Local War Memorial(s): Not Listed (View Names Not Listed on a Local War Memorial)
Additional Information:
Thomas Shellabear was the son of John William and Agnes Shellabear, née Overend. John was born in Devonshire and Agnes at Keighley, Yorkshire. In 1891 John and Agnes were living at Lane Bottom Cottage, Barnoldswick, Yorkshire.
1901 Keighley, Yorkshire Census: 7, Opal Street - Thomas Carradice, aged 8 years, born Barnoldswick, Yorkshire, son of Nancy Carradice (married). [John died in 1896. Nancy married Isaac Carradice in 1898.]
1911 Keighley, Yorkshire Census: 7, Bengal Street - Thomas Shellabear, aged 17 years, born Barnoldswick, Yorkshire, son of Agnes Shellabear [sic], widow.
British Army WW1 Medal Rolls Index Cards: Pte Thomas Shellabear, 10206, 2nd W. Rid. R. Theatre of War first served in: ( - ) [France]. Date of entry therein: 14.8.14. Died. Correspondence: Mrs Shellabear makes app.for clasp in respect of the services of her late son Pte T. Shellabear. 3.12.19. Address: 7, Bengal St. Keighley, Yorkshire. Oi/c Rec[ord]s. York requests inst[ruction]s to dispose of medals on 19.2.21.
British Army WW1 Medal and Award Rolls: Pte Thomas Shellabear, 10206, 2nd W. Rid. R. Died 24.8.14.
Army Registers of Soldiers' Effects: Private Thomas Shellabear, 10206, 2nd Bn W. Riding Regt. Date and Place of Death: 23.8.14. In action. Place of Birth, Date of Enlistment, Trade on Enlistment: Barnoldswick, Colne, Yorkshire. 4.1.12. Foundry Labourer. (1) Whether WILL left, and if so, Name of Legatee and how disposed of (2) If no WILL, Next of Kin as stated by Regiment: Mother - Agnes. Brothers Spencer [and] Jno Wm. To whom Authorised/Amount Authorised: Mother - Nancy Carradice £0 7s. 2d. Mother - Agnes Carradice £5 14s. 4d. [the] 14s. 4d. for Brothers John and Spencer. Sister - Annie Daynes £0 7s. 2d. Sister - Amelia Shellabear £0 7s. 2d. Sister - Ada Shellabear £0 7s. 1d. Half sister - Rose Hannah Carradice £0 7s. 1d. [The date of Thomas's death, above, has the '23' circled in pencil and '24' added in pencil above this.]
UK, WW1 Pension Ledgers and Index Cards, 1914-1923: Pte Tom Shellabear, 10206, 2nd W. Riding. Date and cause of death: Killed in action 23.8.14. Dependant: Mrs Nancy Carradice. Address: 7, Bengal St. off Aireworth, Keighley. Relationship: Mother. Pension: Refusal.
Thomas is commemorated on three memorials: Keighley Great War Roll of Honour (in Keighley Library); Ingrow Parish War Memorial (in St John's Churchyard, Keighley); Ingrow Council School Roll of Honour (held at Ingrow Primary School, Keighley).
The above information was kindly sent to CPGW by Andy Wade of 'The Men of Worth Project' website: https://www.menofworth.org.uk
See also: 'The Death of the 'Dukes' - A Story of Valour and the Sacrifices made by a Battalion of the Old Contemptibles' by Graham Sargeant with Bob Sargeant, Cyril Ford and Scott Flaving (2017).
Data Source: Soldiers Died in the Great War 1914-19 Records
---
Entry in West Yorkshire Pioneer Illustrated War Record: ---
---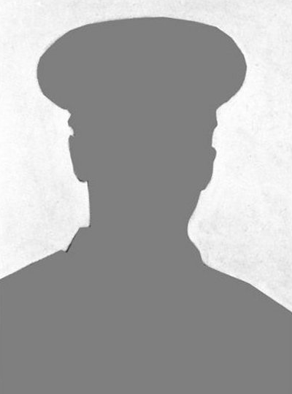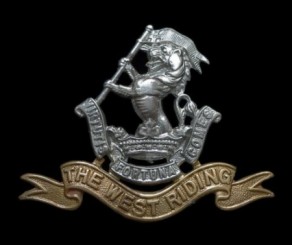 Regiment / Corps / Service Badge: Duke of Wellington's (West Riding Regiment)

Divisional Sign / Service Insignia: 5th Division
---
---
---
Comment on this Soldier Record
You can leave comments on this soldier record. Please note all comments will be manually approved before they appear on the website.